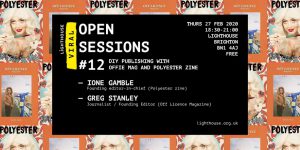 At Viral Open Sessions, speakers share their career-defining moments and advice for getting started in a creative field. It is also an opportunity to make new connections and meet like-minded people.
At this Open Session, guest speakers Ione Gamble of Polyester Zine and Greg Stanley of Offie Mag will discuss the realities of DIY publishing, building a brand, and new media.
Tickets are free but limited due to capacity. Please sign up in advance to guarantee your spot.
Courtesy of the organisation