Re-Imagine Europe at Sonic Acts Academy, Elevate Festival and Lighthouse in February & March 2020
Re-Image Europe is proud to announce upcoming partner events in Amsterdam (NL), Graz (AT), Berlin (DE) and Brighton (UK), with workshops, residencies, commissioned works, presentations and releases facilitated through the transnational collaboration project. 
Sonic Acts Academy
21 – 23 February 2020 https://2020.sonicacts.com/
Various locations, Amsterdam, The Netherlands
Sonic Acts Academy 2020, the international festival at the intersection of innovative audiovisual, performative art and critical thinking, takes place from 21 to 23 February in Amsterdam. Sonic Acts Academy, the research-oriented version of the acclaimed Sonic Acts Festival, takes its cue from inspiring artistic research informed by the urgency of the climate crisis. It offers three evenings of live cinema, experimental concerts and progressive club nights alongside a conference with cutting-edge international theorists and artistic voices at partnering institutions Paradiso, De Brakke Grond, Stedelijk Museum Amsterdam and OT301.
Highlights of Re-Imagine Europe related projects during Sonic Acts Academy:
Philip Vermeulen's sensorially powerful audiovisual installation More Moiré², a new commissioned work that will premieres at Stedelijk Museum Amsterdam. In a panoramic Ganzfeld environment, with no horizon or anchor, the immersive cinematic experience puts visitors' senses to the test.
Released as part of Sonic Acts Academy 2020 and now available for digital download, CONDITIONS : 1218 – 0719 is the first release by MÆKUR, the collaborative project of Maiа Urstad, Eva Rowson and Anton Kats. During the Academy, MÆKUR will transform the space at De Brakke Grond into a radio studio, playfully engaging with FM and AM broadcasting formats. How can radio respond to site-specific needs in useful and collaborative ways? To answer this, MÆKUR track how new technology outmodes past forms, often repurposing old equipment to make new radio labs, expanding how we listen and programme.
And many more activities will take place as part of Re-Imagine Europe: workshops by Anna Bunting-Branch & Aliyah Hussain, Karl Klomp & Heleen Blanken, Ben Russell; new commissioned works by Anthea Caddy, Hugo Esquinca & Yuk Hui, the presentation of previously commissioned works commissioned by Kali Malone, Marja Ahti, Jonáš Gruska, and lectures by Daniel Mann & Eitan Efrat, Marjolein Dijkman & Toril Johannessen, as well as Progress Bar, a club night dedicated to communal desire and collective joy, showcasing a growing community of artists who occupy clubs to empower through sound
Viral Open Session: DIY Publishing
27 February
Lighthouse, Brighton, United Kingdom
http://www.lighthouse.org.uk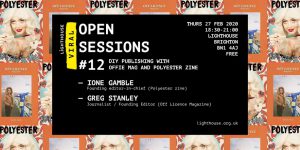 At Viral Open Sessions, speakers share their career-defining moments and advice for getting started in a creative field. It is also an opportunity to make new connections and meet like-minded people.
At this Open Session, guest speakers Ione Gamble of Polyester Zine and Greg Stanley of Offie Mag will discuss the realities of DIY publishing, building a brand, and new media.
Elevate Festival
Various locations, Graz, Austria
4 – 8 March 2020
www.elevate.at
https://elevate.at/en/reimagineeurope/

The Elevate Festival 2020 raises the central question of the relationship between humans, nature and technological development. At Elevate Festival 2020 "Human Nature" is the thematic framework for an inspiring, diverse and thought-provoking festival experience of music, art and political discourse through a variety of performances, concerts, club nights, lectures, panel discussions, workshops and documentaries.
One of the central collaborations of this year's festival is part of Re-Imagine Europe, and a collaboration between Elevate Festival, the IEM (Graz's own Institute for Electronic Music) and renowned Parisian institution INA GRM. INA GRM's Acousmonium, a loudspeaker orchestra consisting of up to 50 individually controllable loudspeakers, will travel to Graz for a special event in the Györgi Ligeti Hall of Mumuth..A series of specially developed compositions and live concerts will feature international stars of the contemporary electronic and improv-scene, including minimal electronics engineers Jan Jelinek,  John Chantler and BJ Nilsen, advanced cellists Okkyung Lee and Lucy Railton, sound hardliners Stephen O'Malley and Peter Rehberg aka KTL, experimental electronics duo utrumque, and also the curator of the programme, François Bonnet (aka Kassel Jaeger).
And many more activities will take place as part of Re-Imagine Europe: new commissioned works by Jimi Tenor,  Dorian Concept & Zanshin, and presentations by Harry Witchel, Nayantara Ranganathan & Manuel Beltrán, Adrian Freedman, Michel Bauwens, Thomas Hamre and Simona Rakusa, Daniel Pinchbeck, Nayantara Ranganathan, Moon Ribas, Zenia Ermoshina & Daniel Erlacher.
Evicted by Greed : Global Finance, Housing & Resistance – Meetup
4 March 2020
Disruption Network Lab, Berlin (DE)
www.disruptionlab.org/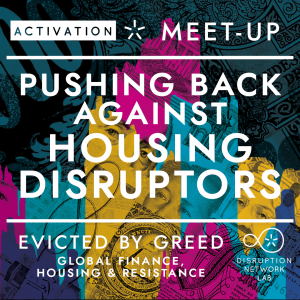 How can we counter the disruptive impact of financial speculation in the real estate market? What are the strategies of some of the many Berlin-based activist collectives, how do they organise their communities? What are their plans for the upcoming Housing Action Day on 28 March, when people across Europe will take to the streets to demand that their homes and cities must stop being sources of profit?
In their first community meetup of the year, Disruption Network Lab invites you to join them for a warm-up to the first event of the year, which focuses on the issues of financial corruption and tax havens in the real estate market and the countermeasures adopted by civil society.
You will hear from three Berlin-based initiatives, Berlin vs. Amazon, Kotti & Co and KunstBlock and beyond how they work on collective responses to the ever-increasing disruption of the housing market by speculators and real estate investors, with a special focus on what they are planning for the upcoming Housing Action Day on Saturday 28 March.
Tomorrow Is Too Late: John Chantler, Okkyung Lee & Nina Pixel
6 March 2020
Bergen, Norway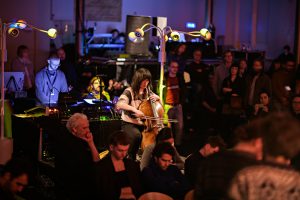 New music for multiple speakers, spanning drone, noise and improv from three diverse and dynamic voices in today's music world. Australian modular synth performer John Chantler and South Korean cellist Okkyung Lee developed their pieces with the legendary Acousmonium system at INA GRM (French National Audiovisual Institute/Groupe de Recherches Musicales) in Paris, and Slovakian dirty techno artist Nina Pixel on The Pentacle – a powerful high fidelity mobile speaker system developed at STEIM (Studio for Electro-Instrumental Music) in Amsterdam. Their new works, blending live performance with electronic sound through multiple speakers, are reimagined and performed live for a new 8 channel setting in Landmark, Bergen Kunsthall.
Paul Davies Masterclass
24 March 2020
Lighthouse, Brighton, United Kingdom
www.lighthouse.org.uk
In this workshop Paul Davies will explore the idea of using sound to create space: not only the space in the frame of the picture, but the world outside the frame of the film. Paul will discuss how sound can create both external and internal subjective spaces in film, and how Sound can add physicality and substance to a flat two-dimensional image on the screen. He will also explore the grey area where sound can be used as an alternative to music and as a complimentary partner to score, looking at the differences and similarities of sound design and music. 
The Sound Hunter
24 March 2020
Lighthouse, Brighton, United Kingdom
www.lighthouse.org.uk
In this free children's workshop, sound artist Fedde ten Berge introduces some of the sound artworks and instruments that he's built. A hands-on learning experience, the children will produce digital and analogue sounds with water, a tree trunk, electromagnetic fields, feathers and snares, bringing together technology and craft. The children learn about vibrating materials, sensor processing and transforming sound electronically, allowing them to explore completely new worlds of sound.
Throughout the session, participants will combine different layers of sound to make a song, teaching the importance of listening and attention for each other while making music, as well as new tools for experimentation and creativity.
The Space in Sound
25 March 2020
Lighthouse, Brighton, United Kingdom
www.lighthouse.org.uk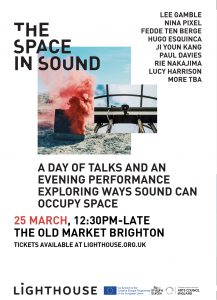 Lighthouse presents The Space in Sound, a day of talks and evening performances exploring ways sound can occupy space. The event offers an opportunity to discover ways in which sound appears in its physical, psychological, compositional, digital, electronic and analogue forms. Themes will interrogate spatial sound, architecture, objects, experimentation and how it can play, interact and synergise between individuals, communities and the environment.
Several projects which were commissioned by Re-Imagine Europe partners will be part of The Space in Sound: Lee Gamble's 'In A Paraventral Scale', which was commissioned as a 3D ambisonic piece by Elevate Festival, and Ji Youn Kang, Nina Pixel and Hugo Esquinca, whose pieces were co-commissioned by Sonic Acts and A4 for the 'The Pentacle' (15.3), a powerful high fidelity mobile speaker system developed by STEIM Amsterdam, consisting of 15 self-designed loudspeakers and 3 self-designed subwoofers.
Evicted by Greed: Global Finance, Housing and Resistance
27 March 2020
Disruption Network Lab, Berlin (DE)
www.disruptionlab.org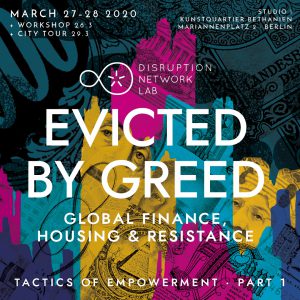 Evicted by greed investigates how speculative finance drives the global and local housing crisis, and gathers experts & activists from around the world to share and find counter-strategies.
The conference highlights how speculators and real estate investors use strategic loopholes to disrupt housing in Germany and worldwide.
What critical interventions and solutions are possible in the context of tax avoidance of offshore companies in the real estate market? Are such investments an unstoppable wave or is it possible to reach better policy measures and greater transparency? Inviting investigative journalists, policy makers, researchers, and activists, EVICTED BY GREED imagines possible solutions, countermeasures, and actions.
Follow #reimagineeurope 
Facebook: reimagineeurope 
Instagram: reimagineeurope 
Twitter: reimagine_EU 
Re-Imagine Europe is a transnational project of ten cultural organisations from across Europe, addressing the social and political challenges we face today through art and discourse. A collaboration between Sonic Acts (NL), Paradiso (NL), Elevate Festival (AT), Lighthouse (UK), INAGRM (FR), Kontejner (HR), Bergen Kunsthall (NO), A4 (SK), Disruption Network Lab (DE) and Ràdio Web MACBA (ES).
Re-Imagine Europe is co-funded by the Creative Europe Programme of the European Union.