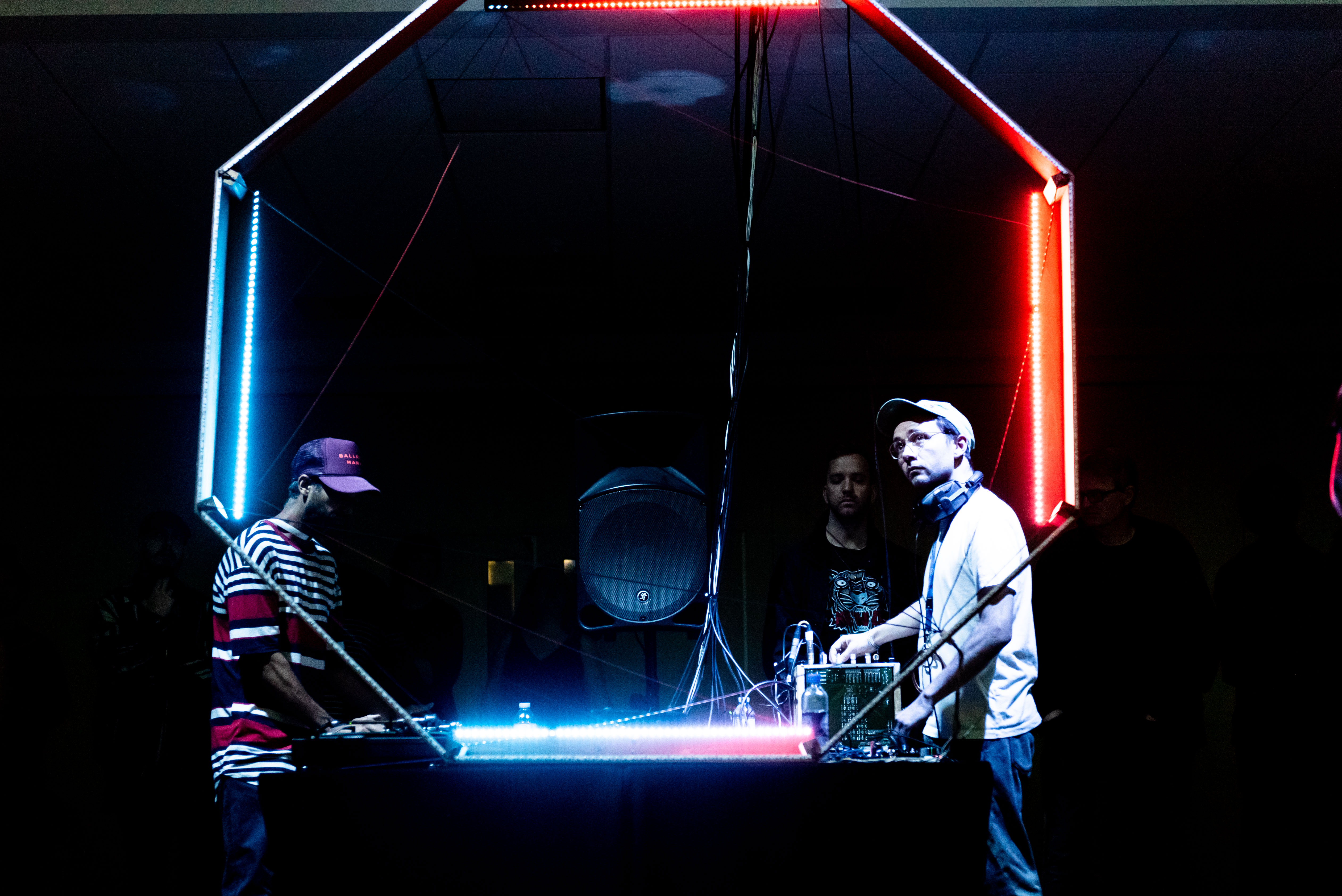 Lighthouse's programme strives to connect artistic practices across different disciplines and physical spaces. As part of our Re-Imagine Europe programme, we would like to welcome a duo comprising a visual artist and music or sound artist/practitioner (e.g. a DJ, music producer, sound artist, composer, performer, sound practitioner, or musician) to take part in a two week residency at Lighthouse in Brighton.
The residencies are an opportunity for artists, practitioners, producers and technologists to expand their practice and research and develop new ideas and methodologies. Another central aim of the residencies will be to formulate a proposal for a collaborative commission, performance or workshop to be produced in partnership with Lighthouse following your time here. As a digital arts organisation, we expect proposals to use technology in new or innovative ways, be it immersive, interactive, data, sound or light-based, or other.
Who can apply:
Existing duos consisting of an artist and a music/sound artist practitioner
A new duo (an artist and sound/music practitioner) who have never worked together before
What Lighthouse can provide:
• A workspace at the Lighthouse offices in central Brighton, with access to our audience facing reception and gallery space
• Support to find and access working or exhibition/showcase spaces outside of Lighthouse where required (such as a specific type of venue, nightclub or public space)
• An allowance for equipment hire, technical support and materials
• Access to our team and relevant members/organisations within Lighthouse's network, and to our partners across the Re-Imagine Europe network
• Accommodation costs (if this is needed in order to take part)
• Travel costs to Brighton
• A contribution towards subsistence costs during your residency
• Please note that the 10 days of this residency can be flexibly or consecutively distributed (to be discussed during the interview process)
Expected Outcome
The residency is intended to result in a public facing event or work, based on one of the outputs below:
• A proposal for an original piece of commissioned work to exhibit or perform after the end of the residency (at a date to be mutually agreed) (Budget available: £2,000 – £7,000* including all fees, materials, and production costs)
• A workshop to develop artists – e.g. peer-to-peer training sessions, training for new makers, etc (Budget available: up to £1500* including all fees, materials, and production costs)
• A workshop for audiences – e.g. DIY workshops, introductory training to gain access to a certain skill etc (Budget available: up to £1000* including all fees, materials, and production costs)
• A digital product – this could take the form of online texts (essays, long reads, interviews, reports, blogs), podcasts, videos and vlogs (Budget available: £500 – £2,000* including all fees, materials, and production costs)
*Please note that these amounts are the maximum cash contribution available. All proposals must be costed in line with the scope and ambitions of the proposed project, and may therefore require less. At the end of your residency we will review your developed idea, ahead of making a decision on funding for your proposal. All budgets are subject to final approval.
Eligibility Criteria:
• Due to the nature of the funding, at least one member of the duo must be a non-British EU national or citizen (resident in the UK or elsewhere in the EU).
• Each applicant must be able to provide a letter of recommendation from a professional referee who has known you for at least 12 months and has worked with you in your capacity as an artist. The letter should detail who they are, how they know you, and why you would be suitable for a Lighthouse residency.
• Each applicant must provide a CV and short biography demonstrating previous relevant experience and practice in your field.
• You must confirm that you can attend the residency during the dates specified.
How to apply:
Please complete the proposal information in the online application form, which will include:
1. Project headline – describe your idea for a commission, workshop or digital product in 2-3 sentences.
2. A longer outline of your idea (written / audio / video) – explain what you want to achieve during this residency and what you propose to deliver as a result of it.
3. Any particular challenges you anticipate you will face in the development of your idea. Will you need access to specific facilities, equipment, technical or mentoring support during your residency?
4. A timeline and budget of the idea you wish to develop during the residency, including tech and materials required. Please also indicate your preferred residency structure (consecutive vs flexible days)
5. Any visual references, images or illustrations to support your proposal.
For any enquiries on completing your application please contact Lighthouse's Assistant Producer Kizzie Furini.
Timeline:
Application deadline – 19 November 2018 at 17:00
Invitation to skype interview – 26 November 2018
Interviews if required (via skype) – 28 November 2018
Successful applicants notified – 5 December 2018
Induction day for successful applicants – 4 March 2019
This project is part of Re-Imagine Europe, co-funded by the Creative Europe programme of the European Union.
Photo: The Wave Epoch, 2018
More about "The Re-Imagined" Residency Open Call