1. Introduction
1.1 Introducing Re-Imagine Europe
Re-Imagine Europe (RIE) is an audience development, capacity building and transnational mobility programme funded by the Creative Europe programme of the European Commission (2017–2021). Re-Imagine Europe is a collaboration of ten arts organisations from across Europe, covering the fields of digital art, music, film and video: Paradiso (NL), Sonic Acts (NL), Elevate Festival (AT), Lighthouse (UK), INA GRM (FR), Student Centre Zagreb / Izlog Festival (HR), Bergen Kunsthall (NO), A4 (SK), SPEKTRUM | art science community (DE), and Ràdio Web MACBA (ES). Urban Paradoxes (NL) leads the audience development coordination and research. Collectively the Re-Imagine Europe partners embark on the process of making and producing art through new forms and new methods of cultural exchange. The programme produces, presents and distributes art, creates new audience development tools, provides new skills for artists and arts organisations and as a result, activates and engages the next generation of Europeans.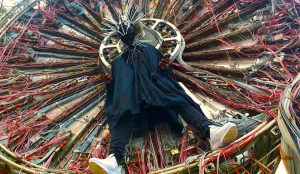 On the left: Lighthouse (UK): The wave Epoch, Last Dance, May 2018. Photo: Elijah
On the right: RIE´s website
With regard to audience development, the Re-Imagine Europe partners aim to deepen and diversify their audiences. Additionally, the partners and the artists and cultural entrepreneurs involved adopt radical approaches to audience development and aim to turn 'audiences' into 'engaged citizens', 'active participants,' and thus into 'change-makers'. They do so by activating audiences to respond to the critical, social and political challenges, by facilitating exchange and dialogue, and by giving audiences the opportunity to develop their digital skills. As audiences, Re-Imagine Europe targets: 'digital natives' (16 – 35 years old) and 'Europeans of tomorrow' (6 – 16 years old). These new and diverse audiences will be actively connected to creative professionals and artists ('multipliers') and 'European citizens': a general culture-minded audience.
1.2 Introducing this article
A literature review was envisaged as one element of the research that is to be conducted in the context of the project. This article is one of the outcomes so far and several steps can be discerned in the process leading up to this article. In November 2017, Re-Imagine Europe kicked off with its first partner meeting. In the audience development session of this meeting, the partners shared their experiences and the aspects of audience development they were interested in improving. They expressed, among other things, the need for insights into digital tools to enhance audience communication and in how to extend relations with online audiences. Additionally, many aspects concerned the deepening of audience relations: ways to build longer-lasting relations and ways to develop new and active roles for audiences. While interested in exploring possible new relations with their audiences, at the same time some of the partners expressed the discrepancy they experience between their organisation's take on audience development and that of policy and funding bodies they deal with in their respective countries. These partners expressed above all the need for an enhanced narrative on audience development.
And so the 'double mission' for the literature review was set: 1) what can we learn from the literature with regard to (digital) ways of deepening relations with audiences? and 2) How does the way in which audience development is approached in the literature relate to the practices of the project partners?
The next step was conducting the literature review for which roughly 100 articles were selected and reviewed: from policy documents and hands-on manuals to scholarly articles. The aspects the partners wished to gain further insights into functioned as guiding search terms to navigate and select from the vast body of literature on audience development. Additionally, interviews were conducted with the partners about their understanding of and rationale for audience development from the perspective of their respective organisations. Some interviews were conducted face-to-face at the partner meetings in May and October of 2018, others via Skype over the course of 2018. The final step was creating a meaningful dialogue in this article between the insights provided by the literature and the lived cultural practices of the Re-Imagine Europe partners.
In the following, we first summarise in section 2 the insights from the literature review – largely without comment. In this section we address the rationale for audience development (2.1), two distinct approaches to audience development (2.2), forms of audience engagement (2.3), digital forms of engagement (2.4), possible active roles for audiences (2.5), and the implications of audience engagement for arts organisations (2.6). In section 3, we engage in a dialogue with the literature by introducing the perspectives, practices and experiences of the Re-Imagine Europe partners. Even though full 'transferability' may not apply, the partners' experience at least provides a narrative of audience development, which allows for consideration in other contexts and for comparison with the literature. The experiences of the partners may be understood to reflect those of comparable lean arts organisations with a relatively small overhead fostering a constant quest for artistic innovation and an almost activist drive to engage in critical reflection on current developments in their commissions and programming, while enticing their audiences to do the same. Such perspectives and sentiments were also encountered in other Urban Paradoxes' research trajectories, which will be referred to in this article whenever instrumental.
2. The current take on audience development – the literature
2.1 The rationale for audience engagement and its effects
According to the European Commission, audience development brings cultural, social and economic benefits. The Commission's perspective on audience development is built on three major assumptions as summed up by Kawashima (2000):
The liberal humanist ideal of culture for all
Barrier removal as the key to audience development
Cultural participation contributing to the problem of social exclusion
These assumptions can also be traced in criteria set by funding bodies across the world. An 2014 Arts Queensland study shows that arts organisations applying for funding have to show, for example, how they understand and respond to audiences, the level of and plan for participation, how inclusive and accessible the programmes are for socially diverse audiences and communities, how much they invest in and innovate in arts education, participation and engagement, and how they demonstrate an understanding of effective community engagement processes. Although funding criteria may differ somewhat between national funding bodies, this study identifies four generic arts funding criteria can be discerned: artistic quality; audiences and proof of demand, reach and access; viability; and market development.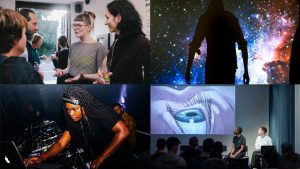 Lighthouse (UK): Re-imagined Futures, Last Dance, May 2018. Photo: Lighthouse
This also accounts for programmes such as the Creative Europe programme of which audience development is one of the priorities. The European Commission (EC) has identified 'broader access to culture' as a common priority for culture ministries across Europe, a priority thus further reinforced by the Creative Europe programme. Additionally, the EC (2012, p.4) sees audience development as a necessity because the world is rapidly changing: the digital shift, better educated populations, greater competition for leisure time, demographic change including declining and ageing audiences for some art forms, and the squeeze on public funding would pressure arts organisations to innovate and adapt. Framed this way, audience development becomes a matter of survival for (some) arts organisations and a matter of taking responsibility for wider (not primarily arts-related) political, social and even demographic changes.
Such funding criteria influence the direction and/or intention of the programmes developed by individual arts organisations – at least to some extent. It also influences the direction of research. In the review we found a large body of scholarly literature on understanding and lowering barriers to participation and on the development of forms of active audience involvement. Walmsley and Frank (2011, p.9) maintain, for instance, that arts organisations should empathise with the barriers audiences face in engaging with their cultural events as well as appreciating what motivates them to attend. For a sustainable audience development it would be equally important to understand who is not your audience, and why they are not attending. In the consulted literature, frequently discerned obstacles are physical and financial barriers to arts participation, as well as the social barrier, which would be hardest to tackle. On the one hand, social aspects function as a motivation for arts attendance: socialising with friends or family members was the most common motivation for arts attendance in a 2015 NEA report on audience participation. On the other hand, social aspects become barriers, according to OMC (2012, p.55), when (potential) audiences feel that the cultural events would not be 'for the likes of them'. Creating appropriate social opportunities is, therefore, as several scholars (e.g., Brown 2013) maintain, a critical aspect of building participation. Arts organisations should create an open and welcoming atmosphere. A social invitation would be powerful enough to circumvent all sorts of barriers. And communication is seen as key to overcoming social barriers: the audience needs to understand the 'language' of the organisation and the 'codes' of cultural participation. A programme that tapped into this line of reasoning is 'Not for the likes of you' of the Arts Council of England. Another important barrier to arts participation, often discussed in the literature, is lack of time.
In the review we also found a large body of literature addressing the third assumption: understanding the relation between arts attendance and social inclusion. Bollo et al. (2017) speak of 'audience by surprise' in this context, referring to people who do not participate in any cultural activity for a complex set of reasons related to exclusion, education and accessibility. Their participation would hardly materialise without an intentional, long-term and targeted approach by arts organisations. The OMC report (2012) offers examples of art institutions that work on such an approach in partnership with sectors such as healthcare and social care. Or as Cogman (2013, p.8) puts it in her audience development toolkit, social inclusion initiatives by arts organisations can focus on national or regional governmental priorities, targeting specific hard-to-reach groups with the aim of benefiting these groups and society as a whole. Such a social perspective is also dominant in the long history of literature on extra-curricular art education, community art and/or outreach programmes set up by arts organisations that are seen to contribute to things like social cohesion, active citizenship or community empowerment (e.g., Stern and Seifert 2013; Webster and Buglass 2005; McCarthy et al. 2004; Lowe 2000; Landry et al. 1996). The effects and impact of such programmes on the arts and/or the arts organisation are mostly not discussed in the literature.
2.2 The three dimensions of and two approaches to audience development
If the literature review shows us one thing, it is that there is no universal, clear definition of audience development. What can be discerned are different dimensions in audience development: 1) increasing or developing audiences; 2) diversifying audiences; and 3) deepening relationships with existing audiences (European Commission 2012, p.3). Audience development is seen in the consulted literature as sustainable when these three dimensions are combined, but what follows from the literature is a plethora of strategies with regard to these dimensions. This is true for strategies identified by different scholars, or within one and the same source. Kawashima (2000) developed, for instance, four distinctive elements in relation to the dimensions of audience development: cultural inclusion, extended marketing, taste cultivation and audience education. The organisation's policy aims would determine which element should be central in their approach. If an organisation primarily wants to target non-attenders, it should focus on cultural inclusion and extended marketing. In the event that the organisation wants to target existing audiences, it would need to engage in taste cultivation and audience education. Furthermore, the literature review shows that many arts organisations develop only a partial strategy to audience development as they concentrate on finding new audiences. According to Hayes and Slater (2002), this often results in short-term projects targeting minority groups, while the potential offered by existing audiences is being ignored. In this narrow approach, audience development can be understood as merely a marketing strategy to increase numbers at short notice by aiming at easy-to-reach audiences.
Also apparent from the literature review is that there are two distinct approaches to audience development: 1) a marketing-oriented approach, and 2) a holistic approach. The marketing-oriented approach to audience development is aimed at new audiences and is focused on art attendance. The goal of this approach is to increase the number of people attending. Both 'building audiences' and 'diversifying audiences' can be dimensions of this approach, but the role of the audience remains passive. In the holistic view on audience development, the audience is involved through audience engagement. Audience development is seen as holistic: that is, as a continually, actively managed process in which the entire arts organisation is involved. It includes aspects of marketing, commissioning, programming, education, customer care and distribution.
The consulted literature indicates that, over the years, the holistic approach has become more dominant in both literature and practice. Moreover, audience development is now understood as a deliberate, strategic process of creating meaningful, long-term connections between people and the arts organisation (e.g., Bollo et al. 2017; Cogman, 2013). The audience's role is active, can take on different forms, and the engagement can occur in all stages of what the European Commission (2012, p.5-7) called the artistic value chain: upstream in the organisation's creation, programming and production processes, midstream in the artistic process, and downstream in participatory activities with the artistic work. Through such engagement, arts organisations can build, diversify and deepen relationships with the audience.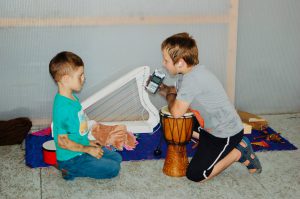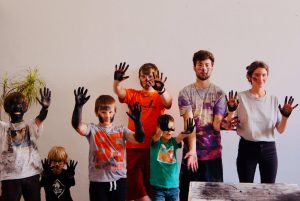 A4 (SK): Workshop And then the silence smiled with Kateřina Zochová, May 2018. Photo: A4
2.3 Creating audience engagement
The current take on audience development is therefore that it should focus on a two-way exchange between the organisation and the audience. Following the dominance of the notion of engagement in the current take on audience development, many scholars analysed various engagement programmes and/or specific forms of engagement. Brown and Ratzkin (2011), for example, found four categories of engagement programmes while assessing the efforts by non-profit arts organisations to engage audiences: 1) engagement via technology; 2) collaborations and partnerships across disciplines and sectors, to overcome barriers to implementing more engagement activities and to integrate art into civic dialogue; 3) experimentation with setting and venues; and 4) participatory engagement, involving some form of physical or creative expression by the audiences. We briefly explore the first and fourth category, following the interests of the Re-Imagine Europe partners.
Engagement via technology
The consulted literature indicates that participation can take place online and offline. For instance, the interplay of arts education and digital media is seen by several scholars as a way to engage especially a young audience (e.g., Brown, 2013; Lin & Bruce, 2014). A returning aspect in the literature on digital approaches of arts organisations is the notion of the 'active' audience. Walmsley (2016) suggests, for instance, that Web-usage should be more interactive with better tools for creative expression such as responsive digital platforms. These platforms would democratise critical exchange and foster more reflective critique. However, among others, O'Sullivan (2010) 'warned' that arts organisations should be aware that different audiences want different things from sometimes very similar technologies and that the vast majority of digital platform users is not actively posting but only reading. Vlieghe et al. (2016) too consider it crucial that arts organisations support the interests of its audience by allowing various digital engagement possibilities, but point out that organisations should also acknowledge the rationales for having audiences participate in online platforms or social media, such as sharing experiences, meeting enthusiasts, creating identity, and acknowledging and encouraging participation (among users and staff).
Thus, one the one hand, scholars identify chances for digital engagement, as it would facilitate contextualisation and cognitive decoding of the art context, and democratise critical exchange. This in turn would positively shift perceptions of art forms unfamiliar to the (non)attenders, increase audience anticipation, and enrich their engagement during live performances. As such it could also be an instrument in breaking down barriers to attendance. On the other hand, studies point out the limited use of digital engagement to date. Although the digital sphere could offer arts organisations various modes of audience engagement, currently, as a study by King's College London (Ellison 2015, p.16) pointed out, organisations apparently use digital media merely as "a means of capturing, recording and storing work, creating online, educational resources or marketing". They also use social media channels for distribution and marketing. But, according to the report, the purpose of the digital media usage, so far, is seldom 'digital' or 'creative' in itself. One of the interviewees, cited in the report (Ellison 2015, p.16), maintains that "a more rounded sense of the value proposition for social media and digital in the life of national, regional and local arts organisations clearly needs to emerge, and does not seem to be doing so organically from within the sector's own partnership activities". A report by Nesta (2015) points out that the limited use of digital technology is due to a lack of expertise, inadequate IT systems and the absence of senior digital managers and coherent organisational digital plans in arts organisations. Some organisations find their digital projects too resource-intensive and refrain from developing them. In addition to capacity building, Nesta identifies partnerships as key to enhancing the use of digital technology.
Consequently, many articles conclude what arts organisations could or ought to do in the digital sphere. We did not find any practical guidelines or manuals, and the literature review offered just one example of a creative application of digital means. This concerns the case of Paradise Laboratories, an experimental performance company that explores the use of the Web to create original online participatory theatre programmes. The organisation's online performance platform contains different formats to activate audiences by enabling co-creation in offline/online performances. The online programmes can be designed to interact with offline 'real' theatre events or to result in independent Web-based art works. An example of a collaborative Web performance that happened both on- and offline is 'Fatebook'. In this collaboration of artists and audiences, thirteen people created fictional identities on Fatebook. The audience first encountered these identities by 'friending' with the characters on Fatebook's social media platform, where they built an ever-expanding theatricalised online community. Finally, during a 70-minute real-time performance, the thirteen characters interacted with scenes projected on screens, the audience, and one another. Audience members curated their own theatrical experience by choosing when and where to watch content and which of the characters to follow and engage with.
Participatory engagement
Brown and Ratzkin (2011) call the increasing availability of interactive and participatory activities in different stages of the artistic value chain 'a trend' in audience engagement programming. The consulted literature also expresses a strong belief that barriers to attendance can be removed through genuine, active participation. The three terms frequently encountered in the literature in this context are: engagement, participation and community building. Stallings and Maudlin (2016, p.6) point out that the terms engagement and participation are often interchanged and are also widely used beyond the art sector: "Public participation is a concept based on the belief that those who are affected by a decision have a right to be involved in the decision-making process." Stallings and Maudlin continue stating that some scholars define arts participation as a measure of arts engagement, where engagement is synonymous with involvement, but other scholars consider arts engagement a process and a correlate of community engagement. They quote Borwick for whom it is a "mission strategy of building deep relationships between the arts and their communities for the purpose of achieving mutual benefit, in which the arts and community are equal partners" (Borwick 2015 in Stallings & Maudlin 2016, p.6). Here the concept of community engagement overlaps that of community building, because, according to Borwick (2012), both approaches take relationships as the key commodity and emphasise the establishment and maintenance of long-lasting relations. Audience engagement and community building concern both existing and new audiences and can thus simultaneously trigger the deepening relations with and the diversification of audiences.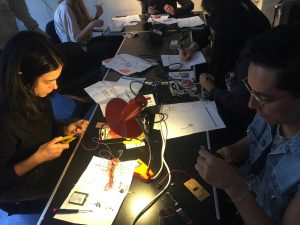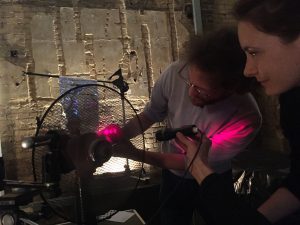 SPEKTRUM (DE): Workshop Sonic Vibration – Materiality of sound with Andrey Smirnov, September 2018. Photos: SPEKTRUM
Whatever the terminology scholars apply, the consensus is that in order to foster long-term cultural participation among non-audiences, the role of the audience should transformed from being 'passive spectators' to 'active participants'. For example, Walmsley & Franks (2011, p.12) found that successful arts organisations embrace the opportunity to work with their audiences on many organisational levels by offering various different forms of engagement. Two key elements in this process of establishing relations that we found in the consulted literature are identification and mutual trust. To enable identification, arts organisations need to offer the audience a voice, enable different forms of participation, and customise the communication. That is to say, by gaining a voice, the audience is thought to feel more connected to the organisation. A relationship extends a person's identity by enabling him or her to belong to the organisation and the community around it. Besides a 'sense of belonging', this community can offer people the opportunity to share their experiences and thoughts with others, which makes it again more meaningful. Conner (2013) analysed, for instance, an increasing importance of learning-communities, where audiences can control their own interpretations and have pleasurable (social) experiences. When the audience identifies with the organisation and its community, their loyalty increases and this is desirable for the organisation's sustainability. Secondly, mutual trust is considered vital to building long-term relations. The consulted literature maintains that mutual trust would increase when the input of the audience is seen to have its effect on the arts organisation.
The other two types of engagement programmes, mentioned above, can reinforce identification and mutual trust. One way towards a new audience, mentioned in the consulted literature, can be the creation of innovative experiences for non-audiences outside the walls of cultural institutions, in public space or (non) arts venues in the community. Another way arts organisations can gain the trust of the non-audience is through partnering with other organisations (inside and outside the culture sector) with which the non-audience is already familiar. The consulted literature indeed stresses the importance of building communities, or networks, with partner organisations. Long-term partnerships bring a continuous exchange of knowledge, ideas and skills, but they are also beneficial for the audience development, as audiences can be shared and exchanged among the partner organisations.
Whilst identifying positive development and chances, scholars simultaneously point out that a strong focus on and awareness of the preferences of the audience is a necessary condition for nurturing identification. In this context, for instance, Brown and Ratzkin (2011) maintain that arts organisations need to consider the different engagement preferences of their audiences. For this purpose, they determined six different audience typologies: Readers, Critical Reviewers, Casual Talkers, Technology-based Processors, Insight Seekers, and Active Learners. In order to engage people representing these typologies, Brown and Ratzkin (2011, p.8) state that arts organisations may want to provide a diverse menu of programmes and activities — social and solitary, active and passive, peer-based and expert-led, community-based and audience-focused. This would help to increase the experience and uptake of the artwork by the different groups with their disparate preferences for engagement. Brown and Ratzkin found, however, that most arts organisations are particularly adept at serving Readers (who like to read a bit of information beforehand) and Insight Seekers (those intellectually curious joining lectures and discussions). According to them (2011, p.34), the challenge arts organisations face is to figure out how to serve the other segments 'small bites of context and insight'.
2.4 Many possible active roles for audiences
With regard to the creation of audience engagement and building long-lasting relations, we discerned in the consulted literature – particularly in articles on specific case studies – a range of active offline and online roles for audience members to engage in. Three types of participation stand out: 1) participation of audiences in and around artistic products or processes; 2) participation of audiences at the organisational level; and 3) participation of audiences through memberships or financial relations. We briefly discuss some examples of these strands below.
First, there is the range of forms of audience participation in and around artistic products or processes. The aim of such programmes is, according to Lipps (2015), to build community ownership, participation and a relationship with, and support for the organisation, its programme and its people. In addition to audience engagement, quality visitor experiences would be key to achieving this. One established and widely accepted form is participation in educational activities. This mainly concerns activities additional to the artistic core product to deepen the experience of the audience and to reach out to other, often young, audiences. Think, for instance, of workshops or interactive pre- or after-talks that almost all cultural institutions have in place. Another form of this type of participation is through interactive elements in the performance or exhibition. Certain theatre forms entertain this type of interaction as the core of their theatre practice. Examples are forum theatre and immersive theatre plays in which the audience can intervene or take active part in the story and theatrical action. This type of participation can also take place in an exhibition in which audience members find their own routes to create their own individual experience of the work. In terms of sustainability of the relation built with the audience, OMC (2014, p.95) advocates 'duration in time', because: "Projects aiming at participation in the arts may have an empowering, and sometimes even healing, effect. However, letting people down because the project has ended may produce the opposite result, and produce disappointment and loss of trust."
Several scholars take it up a notch and consider the artistic experience, stemming from a high level of audience involvement in the art process, as the core customer value. For instance, Boorsma (2006) argues that audiences should be seen as co-producers in the total art process, with the artistic experience as the reward for the co-creative efforts of the audience. According to a report on audience development and the Creative Europe programme (2012), co-creation and user-led or user-generated content facilitated by digital technologies would be a global trend. Moreover, this report expresses the belief that the future of audience development might lie in even greater levels of interactivity in the creation and production processes. In co-creation or co-production, rather than participating in a preconceived artistic product, the audience is able to co-shape, influence or change the artistic outcome of an art process. Co-creation requires a profound level of interaction between audience and artist. Walmsley (2013, p.2) points out that successful co-creation involves trust, respect, collaboration, exchange and playfulness. Co-creation attracts a highly niche audience of active learners and risk takers, therefore Walmsley (2013, p.10) maintains that organisations striving to increase loyalty through this type of active participation, must be aware that they might alienate people who are happy to leave the production of art to artists.
Second, there is a range of forms of audience participation at the organisational level. These vary from more detached to highly engaged forms. A light version of this type of participation is in audience consultation processes, for instance, in audience research (surveys, interviews, focus groups, etc.) aimed at gathering information on the audiences' experience. From the literature we learn that arts organisations presently have only limited, if at all, insight in the different roles their audiences pass through. On a similar note, the literature suggests that arts organisations should shift their focus from obtaining quantitative data (surveys) to qualitative research on why audiences attend or participate and what they take away from this. Alternative measurement systems must be developed to measure the impact of participatory strategies. Foreman-Wernet and Dervin (2017), for instance, suggest the 'Sense Making Methodology' that maps different views of the artistic product and the organisation held by audiences and professionals. The methodology analyses patterns of audience actions and attitudes over time.
A more active form of participation is in panels or stakeholder meetings with representatives of audience segments the arts organisation likes to reach. These (curatorial) panels offer, for example, programming suggestions and/or reflect on draft versions of the programme. This is seen as a means to diversify audiences. Arts organisations can also stimulate diversification through ambassador programmes, a current trend in building networks in the arts. One example is the 'EXPOSED-team' of Eye Filmmuseum, Amsterdam. The team of one community manager and six young members provides in its own way context for the EYE programme, via an online magazine and by organising its own (side) events. The team is also asked for feedback, for example, on future programmes by Eye. Another example is Deventer Schouwburg (NL), which invites people from the city of Deventer to become 'fan' of a theatre group, e.g., Toneelgroep Oostpool. They gain a voice in decision-making, and as ambassadors they both 'consume' and promote a play. More radical forms of involving people at the organisational level are temporary 'take-overs'. One example here is the TakeOver Festival from York Theatre Royal (UK). For three weeks the theatre's management stands aside and hands over complete responsibility for the programming and running of the theatre to a group of under 26 year olds. The theatre staff fulfils only a supporting role. Another example is Showroom MAMA's Summer Swap in 2017, which this Rotterdam based gallery announced as: 'MAMA goes on ho­li­day. Con­cre­te Blos­som and Da­ma­ge Playground are ta­king over. What are their plans? We don't know. But they have our trust.'
Another active supporting role is volunteering – in real life or virtual (e.g., Cravens 2000). Volunteer programmes are sometimes born out of economic necessity, for instance, as strategies to generate alternative forms of income and resources to supplement art grants (Bussell & Forbes 2007). But other 'motives' and benefits are mentioned too. For one, it is seen as a way to improve the link to diverse audiences (Davies & Wilkinson, 2011). Other benefits mentioned are: volunteering in the overall operation of the arts organisation will give the people concerned an 'insider' feeling; free access to the event; and it will provide an impulse to their professional and personal development, such as, e.g., presentation or project management skills (cf. Hotdocs, 2015, p.39-40; Arnett et al. 2003). In that sense, some scholars emphasise the mutual benefit – Rentscher et al. (2002) speak of 'the exchange of value'. Manuals exist supporting the arts organisations in setting up volunteer programmes and offering guidelines for volunteer management (e.g., Hotdocs, 2015; Stamer et al. 2008). There are arts organisations that work with volunteers on a structural basis. For example, volunteers are an important aspect for the nine galleries and museums of Tyrne and Wear Archives and Museums (TWAM). On the 'TWAM volunteering' website new volunteering challenges are uploaded all the time, making it easier for volunteers to get involved. The challenges differ in focus and duration. Some can be completed in, for instance, one minute (such as sharing a photo on social media, posting a tweet or sharing a suggestion), in one or two days of volunteering (e.g., as an assistant or a fundraising volunteer during an event), or in weekly or monthly volunteer roles (e.g., digitising the collection, working as a gardener in the community garden or as a catering assistant).
Some arts organisations developed participatory decision-making processes as the fundamental, structural basis of how an organisation is run. In this respect, Jancovich (2015, p.1) points out that much of the literature shares the assumption that the deficit (in participation in the arts) lies with the non-participant, in terms of either understanding or opportunities to engage. Strategies to increase participation therefore commonly focus on education programmes or concessionary pricing. Jancovich sees most art institutions trying to increase participation in their existing activities rather than being willing to change the way they operate. At the other hand, Jancovich finds at least some scholars who argue that the deficit may be in the management of the organisation, or the cultural offering, as much as with the recipient. In her article, Jancovich therefore explores what the implications are of moving beyond the deficit approach to participation, to a process whereby consumers are involved in shaping how arts organisations are managed and programmed. Looking at processes of participatory decision-making, whereby organisations interact with their users on the planning and delivery of services, where such processes have been implemented she finds a resistance to the concept of participatory decision-making in the arts sector as well as demonstrations of powerful outcomes, in terms of both artistic and audience development (2015, p.2). Jancovich provides the example of Contact Theatre, Manchester. An example we came across at the Art & Audiences Conference, in Gothenburg in 2017, is Science Gallery Dublin that has put public participation at the heart of its organisation. Engagement is facilitated at every step of the way: from a (global) open call for exhibition themes, to the 'Idea Funnel' in which the choice of themes is structured, to the connection made between professionals, upcoming artists and amateurs in the research projects that result in the exhibitions, and the mediation during the exhibitions. The exhibitions do not mark an end point, but are 'works in progress' as the audience develops and changes the work with the artists and designers. The organisation has become porous, allowing ideas to come in from the outside. The Gallery understands itself as a cultural incubator and does not hold itself responsible for how things are developed.
A third strand is audience participation through memberships or financial relations. One such relation is facilitated through membership programmes. This can concern memberships or friends programmes related to a specific arts organisation, as well as to a consortium of such organisations. An example is the cultural membership organisation 'We Are Public' (NL). The organisation's editorial staff selects the best concerts, performances, films and expositions from the programmes of the We Are Public partners in the respective city. For a monthly fee, members have access to a selection of 50+ cultural events a month. The selection cuts across disciplines, contains mainstream, niche and alternative events. This way, the scheme reaches a new and larger audience for the cultural partners involved – meaning both audience development and an increase in ticket sales.
Another – double – incentive comes from crowdfunding. Besides financial support, crowdfunding enables the organisation to involve audiences in realising events, which may give them a sense of co-ownership. A successful Dutch crowdfunding platform for the creative sector is 'Voor de Kunst'. However, crowdfunding is a demanding process and external expertise and partnerships are often a requirement for its success. From their study of the European cultural and creative sector, De Voldere and Zeqo (2017) conclude that the adoption of crowdfunding is still in an early stage and that to date success rates remain low. To be successful, crowdfunding demands consistency, e.g., an annual crowdfunding campaign can offer a fixed moment of contact and collaboration with the audience. The international frontrunner in 'serial' crowdfunding is the Louvre Museum. Every year since 2010, the Louvre has held a campaign to acquire a new artwork or to begin a restoration project. Research has shown that over 50 per cent of the people who donated took part in other crowdfunding campaigns in subsequent years (De Voldere & Zeqo, 2017). The 'reward' for the donors varies from a free ticket or a behind the scenes experience, for example, to a piece of art. Crowdfunding is a structural part of the Louvre's marketing strategy as it builds sustainable and loyal relationships with the audience.
2.5 Implications of audience engagement for arts organisations
Several of the studies on a sustainable audience development in our literature review point out that effectively achieving audience engagement demands certain attitudes and actions on the part of arts organisations. For instance, Maitland and Meddick (2000) define audience development as a planned process, which involves building a relationship between an individual and the arts. This takes time and cannot happen by itself. Arts organisations must therefore work on developing these relationships. Or rather, a sustainable audience development would require the entire organisation to be involved. In addition to such a holistic approach, other (interrelated) implications for arts organisations we found in the literature are: sharing power, strong leadership and partnerships. These are discussed briefly below.
A holistic approach
According to Sidford and Hinand (2014), the success of audience engagement is dependent on a wholehearted and institution-wide commitment, and this commitment must be evident in all aspects of the organisation's operations. Many scholars agree that marketing, education and programming are the most obvious departments involved in audience development, but maintain that audience engagement is to be integrated in all work departments (e.g., Brown & Ratzkin, 2011; Fiaccarini et al., 2016; European Commission, 2012).
An area that needs action, according to Bamford and Wimmer (2012) in a report written in the run-up to the Creative Europe Programme, is the organisation-wide definition of structures and responsibilities regarding audience development. In the current state of audience development another field that needs action is capacity building with regard to audience development (Bamford and Wimmer (2012); Bollo et al. 2017). This is seen as key to the staff committing fully and to bringing audience development into the core of the organisation. Capacity building should be directed at office staff as well as at artists working directly with audiences. As we saw above, a specific area that requires capacity building is the use of the digital sphere in audience development.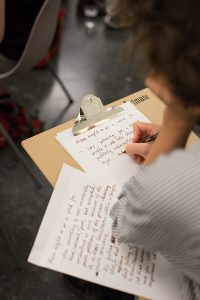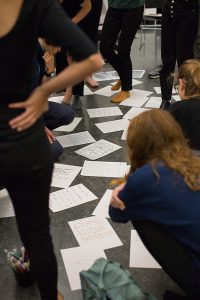 Bergen Kunsthall (NO): Who's doing the washing up where is the sink? by Aliyah Hussain and Anna Bunting Branch, August 2018. Photo: Thor Brødreskift
Additionally, Cogman (2013) maintains that in the holistic approach, arts organisations should engage external expertise by appointing an audience development manager and/or by collaborating with partners. In choices for partnerships, external artists and locations, arts organisations ought to aim for diversification. This is in line with one of the conclusions the European Commission drew from the 'European Audiences' conference (2012): the holistic approach to audience engagement needs to be reflected in the organisation's internal structure and in the diversity of its workforce and partners.
Leadership
Furthermore, the literature review showed that changing an organisational culture and bringing audience engagement into the organisational core demands confident leadership. Good leaders recruit and select a diverse staff and do not try to lead the change alone. Rather than directing change, Fiaccarini et al. (2016) maintain, cultural leaders provide a climate in which change can occur: leaders have to assume the role of 'change maker'. Jancovich (2015, p.9) argues that the ethos of arts management needs to shift to a 'relational leadership model' that nurtures a shared vision across the organisation, in particular if arts organisations decide to implement participatory decision-making. Jancovich (2015, p.10) adds that space should be made for dissenting voices to be heard, to avoid the tendency towards path dependency in organisations, and, instead, offer transparency in how the internal decisions are informed by such processes.
Sharing of power
Audience engagement additionally implies the sharing of power between the arts organisation, the artists involved and the audiences, for instance in co-creation or participatory decision-making (with a select few). Jancovich (2015) states that this is most effective when people genuinely want to change the power relationships in the organisation and expect the outcomes to be different from what they are used to. As some in the organisation might experience sharing power as threatening, or be reluctant to deal with certain demands from the audience, it requires good leadership and capacity building among staff and artists. The organisation's trust and support for the actively engaged audience – providing true freedom in programming and allowing them to make mistakes – will enhance the confidence and skills of the participants, which in turn will come to benefit the organisation.
Jancovich (2015) further maintains that short-term processes, for example, when participants are invited to co-curate an exhibition, are effective in building public value but not necessarily in influencing organisational change. Such processes are most transformative when embedded organisation-wide and allowed to run for the long term. Small project-based experiments could be developed within arts organisations to build the capacity and confidence of cultural leaders and managers in establishing such programmes. The sharing of power should also include other arts partners and partners from other sectors. As with collaborating artists and audiences, here too arts organisations should be aware of the power dynamics at play and avoid things like tokenism, being only symbolically inclusive of minority groups. Reich and Reich (2006) also point out that staff must become aware of informal hierarchies and disciplinary policies in the organisations as well as of their own biases and sensitivity to others.
Partnerships
Many scholars thus see collaboration as key to a sustainable audience development (e.g., Bollo et al., 2017; Cogman, 2013; European Commission, 2012; Fiaccarini et al. 2016). According to, e.g., Borwick (2012) and Brown and Ratzkin (2011), to build communities (rather than audiences), arts organisations should collaborate with partners across disciplines and sectors, as well as with, for instance, local businesses. In other words, partners ought to be seen as collaborators bringing in external, complementary expertise, not as competitors. Through partnerships, arts organisations gain access to new, and broader audiences. And, as we have seen, partnerships could remove social barriers to engagement, as the new audience is familiar with, and trusts the partnering organisation. Hayes and Slater (2002) add that partners better understand (have a holistic picture of) the target group's behaviour, lives and interests. Interdisciplinary strategic partnerships and collaboration with other institutions either in the same sector or across sectors are likely to be an important feature in the future.
3. In dialogue with the literature
3.1 Introducing the perspective of the Re-Imagine Europe partners
So far we have presented insights from the literature review largely without comment. Nonetheless, there are several things we noticed during our review. First, the literature predominantly analyses developments in audience development in large-scale arts organisations and venues such as theatres or museums, which most likely have a marketing/communications and educational department taking care of outreach and audience programmes. Second, in the consulted literature, the rationale for audience development is often the 'positive effect' of art participation for individual arts attenders and/or for society. The literature explores why it is beneficial for audiences to take part in cultural activities, what the social impact of cultural participation is, and how arts organisations can maximise impact by developing various roles for the audiences to take up. The intrinsic motivation of arts organisations is less extensively covered by the literature. Third, the literature on audience development appears to be written with a specific group of audiences in mind: non- or potential attenders. This may explain also the strong focus in the literature on understanding and overcoming social and cultural barriers. This is further emphasised, specifically in Northern European countries, by cultural policy focused on minority groups and/or people positioned 'at a distance' from the arts and the arts organisations in terms of cultural taste, socio-economic class and occupation. Fourth, the fairly extensive body of literature on audience engagement in the artistic production process does not widely reflect on the desirability of this development or on the dilemmas arts organisations may experience in this regard. What is more, these four elements do not reflect the primary way in which the partners engage with their audiences.
The Re-Imagine Europe partners embrace the importance of working on audience development, and their perspectives and to some extent practices overlap with notions put forward by the literature. As we shall come to see in this section, in a way, they too advocate a holistic approach to audience development and value collaboration and partnerships. Simultaneously, however, the partners take a different approach and arrive at these notions from different rationales. One explanation of the distinction may be that most partners run lean arts organisations with a relatively small overhead. The question for these arts organisations is: when does it make sense and when is it feasible and manageable to engage in audience development? Below we reconstruct the perspectives on and rationales for audience development expressed by the partners in the interviews.
3.2 Large versus lean arts organisations
Although the literature on audience development focuses predominantly on large(r) arts organisations, some scholars are aware of differences between large and small organisations in terms of their ability to build audience engagement. For instance, with regard to the finding that engagement is about building trustful relationships, an informal atmosphere and face-to-face contact, Sidford et al. (2014) believe this to be most feasible for smaller arts organisations. They see these organisations as 'personal' and 'welcoming' spaces, and a smaller staff would be likely to be more open to the audience and therefore more accessible than larger organisations. Moreover, smaller arts organisations would have a lower barrier to engagement than large(r) organisations where the audience may experience the hierarchical structure as a (social) barrier to engagement. On the other hand, audience engagement requires the investment of time, manpower and budget. Large(r) arts organisations are more likely to be able to afford and establish 'new audience development' programmes or even departments. Particularly in the performing arts field, Brown & Ratzkin (2011) noted that staff positions dedicated to audience engagement were on the rise. Smaller organisations tend to be more limited in capacity.
The Re-Imagine Europe partners indeed point towards the limited capacity in their organisations where audience development is concerned. The partners include several festival organisations, i.e., flexible small-scale organisations that only expand around the time of their (annual) events. Other partners run small to medium-scale organisations, but are nevertheless lean organisations with a relatively small overhead. None of these partners employ specific 'audience development staff', and they admit that they do not often get to work – let alone, extensively – on audience development or only late in the processes of commissioning artists and organising their events. Again other partners are part of a larger arts organisation, but this does not necessarily mean that they can access the audience development recourses of the main organisation. The dependency on the marketing and communications department of the main institution, and the extent to which it takes a neoliberal, marketing-led approach to audience development, even pose additional challenges for the partners and they way audience development fits their remit.
Ràdio Web MACBA – Barcelona (ES)
Ràdio Web MACBA is part of the Museum of Contemporary Art Barcelona and was once designed by the museum as a means to reach out to new audiences. As a small satellite of a large organisation, the Ràdio has seen a pronounced change in audience development approaches by the museum. The neoliberal take on audiences, i.e., reaching new audiences and raising the number of visitors, used to dominate. With the inauguration of a new director, the museum experienced a shift from a marketing-led approach to 'audience engagement'. This opened up the museum's way of thinking about audience development: from then on the artistic content (collection) formed the basis from which to work with audiences, and collaborative projects with the neighbourhood and local communities were set up. Ràdio Web appreciates this development, but still struggles to convince the museum to use its podcasts for the museum's wider communication and exhibitions as well.
In spite of the difference in the scale of their organisations, the partners (largely) share their notions and perspectives on audience development.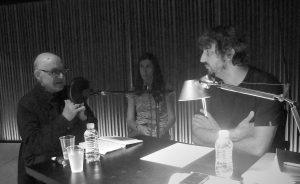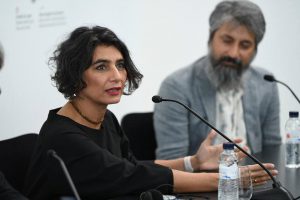 On the left: Ràdio Web MACBA (ES): Podcast with Jean Luc Nancy, December 2018. Photo: Maria Moreno
On the right: Ràdio Web MACBA (ES): Podcast Raqs Media Collective, January 2019. Photo: Miquel Coll
3.2 Not a growth-paradigm, but a developmental and realistic approach
An important incentive for the Re-Imagine Europe partners, particularly for those located in Northern European countries, to work on audience development comes from cultural policy and funding bodies. These partners experience a marketing-led approach among the funding bodies, i.e., a quantitative approach that requires from the arts organisations an evaluation of the increase in audience numbers and of the ways in which they worked with (predefined) target groups. In spite of the shift from a marketing-led, arts attendance approach to a holistic arts engagement approach, the bottom-line for funding bodies is thus still about broadening audiences. This growth paradigm has more often been met with concern from arts organisations. Most often heard is the fear that the relentless pressure to increase their audience numbers would result in having to cater to the 'common taste' in, for instance, blockbuster productions and art programmes would suffer a loss in artistic quality as a consequence.
Instead of a growth paradigm, what counts for the Re-Imagine Europe partners is: a) a developmental approach, and above all b) a sustainable and realistic approach. With the 'developmental approach' they express their understanding of audience development as an attitude and therefore as an intrinsic part of all aspects of the relations between the organisation and its audiences. This way, rather than audience development as a 'task' that can be assigned to a specific member of staff or department, audience development would become an attitude of all people involved, solidifying the arts organisation as a learning organisation. One implication is that in a developmental approach, the assumptions on which the dominant understanding of audience development – as put forward by the literature, and in practice, by funding bodies, can be questioned. Sonic Acts illustrates this approach.
Sonic Acts – Amsterdam (NL)
Sonic Acts is interested in getting to know its audience better and probe the possibilities of audience development, but with an open and inquiring attitude:
"One of the big traps is that funders expect you to grow forever. But as soon as one of our concepts or programmes become successful, we look for organisations with a larger production capacity than Sonic Acts to take over these concepts. That opens up our space and time for the development of new concepts. At the start, 'new' generally equals a small number of people attending. How do we create a narrative in the cultural sector and among funding bodies on the premise that the quantitative approach is not sustainable, a narrative about growth in development and not in numbers?
To us 'growth in development' means, for instance, learning by comparing different approaches: what are the intrinsic values of experimenting with audience engagement and what are the intrinsic values of working with artists whose art does not include audience participation? It means exploring how audience development can be embedded in or even improve what we do. An example would be to explore audience development as new or other modes of communication between the artists and the artworks and the audiences, and thus, as a way to improve mediation. Another example would be to work with students following a research master in the preliminary research that is part of an arts commission as a form of interaction with the audience, and thus, as a way of exploring the scope of the definition of audience development. It would be great if we could communicate the findings of such explorations to the funders, rather than just facts and figures about the composition of our audiences."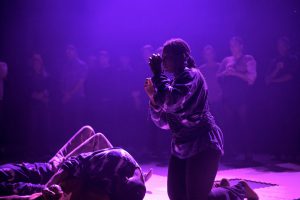 On the left: Sonic Acts (NL): Workshop The Sound Hunter with Fedde ten Berge, February 2019. Photo: Pieter Kers
On the right: Sonic Acts (NL): Sonic Acts 2019, Sound as weapon, sound 4 Survival, February 2019. Photo: George Knegtel
 Ràdio Web MACBA also applies a developmental approach, for example, with regard to the students the Ràdio regularly involves in the production of the podcasts. The rationale is to increase the multivocality of the podcasts, to explore different roles for people who would otherwise be passive audiences, but also to introduce students to podcasts as a medium. In addition to such a developmental approach, a more sustainable, realistic approach to audience development would help the Re-Imagine Europe partners, and without doubt many other arts organisations.
Ràdio Web MACBA – Barcelona (ES)
The music commissions of the Re-Imagine Europe programme offer the Ràdio a content-driven possibility to develop its audiences. If a podcast is to explore feminism and the disintegration of identity after the dismantlement of the Iron Curtain, the Ràdio may invite both a scholar working on these themes and a female artist from Eastern Europe who speaks to this in her music. The Ràdio's audience will increase and diversify when the two protagonists share the podcast with their respective networks. This ripple effect is strengthened by the Ràdio actively posting on various online forums and by linking Ràdio content to comments placed by others on social media. This works well in terms of increasing the number of people listening to the podcasts, but it demands a diverse personal network and is a highly time-consuming approach. This makes it difficult to upscale or delegate.
In this regard, policy and funding bodies may be advised to reflect on their growth paradigm, its feasibility and the assumptions on which it is based. At least, they could further differentiate between types of arts organisations in the way they can be expected to achieve growth. The advocated 'realism' also refers to another element in the case of the partners: they occupy a niche in the cultural sector by commissioning and presenting experimental and avant-garde audiovisual art at the crossroads of the arts, technology, theory and society. How large can the 'audience bubble' realistically become for such a cultural 'niche', given the fact that taste matters – as the vast body of literature on cultural taste and preferences in cultural consumption has extensively shown? The higher-educated art attender may be a cultural omnivore, willing to try something new, but the majority will not likely do so.
3.3 Not about predefined target groups, but the 'right people'
Northern European art funding bodies, and the EC, often indicate which target groups the art sector should focus on and work with. These target groups are for instance non- or potential attenders, minority groups or other people positioned 'at a distance' from the arts and the arts organisation in terms of cultural taste, socio-economic class and occupation. The choice for these groups seems to relate more directly to general policy aims, than to the needs of specific arts organisations. The consulted literature also revealed a strong emphasis on how to engage 'vulnerable groups' in the arts. In addition to the orientation triggered by policy and funding, this may be a consequence of the dominance of cultural-sociologists among those conducting the lion's share of this type of research.
When it comes to the growth paradigm, several arts organisations have already expressed their concern about having to work with target groups. They have pointed out that in practice working with target groups may quickly turn into a 'tokenistic' approach or mere identity politics: groups are mobilised for a project and once it stops, the relationship is lost, and/or groups are approached predominantly because they have certain social or cultural features. Some articles that we came across in the literature review underline this concern. Barbosa and Brito (2012), for instance, point out that if special or targeted events are not anchored in the overall cultural programme and mission of the arts organisation, and the event is predominantly associated with entertainment or social activity, the opportunity to provide learning experiences – by participants and the arts organisation – might be jeopardised. Additionally, they warn that, with events in public spaces or 'the community', arts organisations need to keep in mind that newcomers are event-goers. Moreover, projects and events aimed at removing attendance barriers do not ensure that the newcomer returns. The European Commission (2012) also refers to research indicating that policies lowering the barriers to access, such as offering free access, have had little impact on non-attenders.
Other, often artist-led organisations have indicated that working with 'target groups' is contrary to their inclusive approach. They do not want to focus on particular groups, nor do they want to start by defining groups by their alleged 'deficit'. In their work, these organisations build cross-relations between people from a wide range of backgrounds, who have nonetheless shared interests and who the organisations approach in a positive manner, e.g., by addressing their talents, and not because they may be older or a refugee (Trienekens 2018, p.44-45).
From the interviews it became apparent that there are two additional issues the Re-Imagine Europe partners have with the target group focus: a) again, they rather take a developmental approach, and b) the groups defined by policy, funding bodies or the literature, do not reflect the groups they define as relevant to target within the remit of their organisations. Bergen Kunsthall provides an example of the first issue.
Bergen Kunsthall – Bergen (NO)
Bergen Kunsthall intended to widen the Landmark programme with the commissions and audience development pilot in the first year of the Re-Imagine Europe programme. From different angles and in programmes with different forms and rhythms, the question 'Who is doing the Washing up?' was posed to address issues of hospitality and means to open up the institution. Jordi Ferreiro, for instance, worked with a group of young people on opening up the Kunsthall, which resulted in a one-day take-over of the programme and building. Maia Urstad and Anton Kats collaborated and worked more invisibly in the community with women of the Red Cross. The collaboration between artists, artists and communities, Landmark and non-arts-communities was new to Kunsthall. The primary rationale of the programmes was not to target specific communities, but to work on the question of opening up the institution and to learn from the sharing that took place in the processes:
"The objective was to try out different models – models that went beyond people just coming in, watching something and then leaving again. What Kunsthall learned from the programme is that not every outcome or every part of the programme needs to be big and public. What counts are the established relations and the insights derived from them. Rather than presenting the artist as the one with knowledge, like in master classes or workshops, the programmes were about bringing together different kind of knowledge and thus about interaction and shared learning. Working in a collaborative manner with the communities was rewarding for Kunsthall, and for the artists involved, in that this approach offered the artists more time and another way to share their work and introduce people to art practices than only via exhibitions. Also valuable was the serial approach, i.e., the framing of all programmes around the question 'Who is doing the washing up?' This way a broader and deeper reflection on the central theme, and thus more extensive learning, became possible."
Bergen Kunsthall now applies the lessons learned to their new commissions and audience programmes.
Second, if working with target groups does make sense for some reason or the target groups must be defined, the question is: Was there sufficient reflection on which target groups need to be addressed? Rather than working with target groups predefined by policy or funding bodies, has the question been answered: Which target groups are relevant for which arts organisations?
As mentioned, we came across an abundance of literature on engaging 'vulnerable groups' in the arts. We did not find literature in which, for instance, artists, art students or other cultural professionals are defined as target groups. Several Re-Imagine Europe organisations nonetheless started their organisations specifically to provide a platform for such 'multipliers' from the start. They set out to provide a place for students of art and art-science and music professionals to present their work and interact with their peers. The partners understand working with multipliers and arts-related professionals, e.g., music journalists, as necessary to stimulate the development of their domain of the arts and to establish ways to communicate about the artforms they represent. A4 and Elevate illustrate this point.
A4 – Bratislava (SK)
"Sometimes there is a discrepancy between the value of the artists we programme and the number of people who show up as an audience. Part of the explanation has to do with the lack of music journalism and other media channels reporting on the avant-garde in Slovakia. There is no magazine writing on contemporary art. Our magazine is published quarterly, but we are working towards an online magazine and have started producing videos. The next question is: how do you get audiences to click on these links?"
Elevate Festival – Graz (AT)
Elevate Festival attracts a loyal audience of international, mobile cultural professionals such as music experts and critics, opinion leaders from European cities, and technology experts. In the early years of the festival, it mainly concerned like-minded and activist people, who would know what they were going to see at the festival. People from Graz without a direct connection to art, music or another related field did not attend. Expertise was also in short supply: "Music journalists didn't know a single name in the line-up." The Elevate team tries to widen their reach without changing the festival profile too much:
"The aim is not primarily to get more people to buy tickets. It is a challenge to combine the wish to open up to a wider audience with the festival's remit to programme experimental and innovative art forms. Its international orientation (parts of the programme are in English) may also mean that we loose out on certain segments of the local audience. Our aim is to get 'the right people' in. Meaning that, in addition to the local scene, our target audience are international professionals who we address with a bilingual art magazine, events for invitees only or meets-and-greets. An additional target audience are high profile (Austrian) professionals and entrepreneurs. Lobbying is important for us, because the festival is dependent on public funding and sponsorship, but we are dedicated to the latest developments and artistic innovation, rather than to increasing audience numbers."
3.4 Content-driven audience development and innovation in the arts
There is a difference, and at times a tension, between working with predefined audience segments or target groups and a developmental approach to audience development. The first approach is a rather more marketing-driven process; the second one is content-driven.
We encountered a content and innovation-driven approach in other recent research trajectories too. For example, in research into talent development of young performing artists. Several of these artists experience a drive to explore and question in their artistic work the 'current state of art consumption' in which audiences remain predominantly passive (viewers, visitors, etc.) and a fairly homogenous group of people. To explore alternative relations, artists might decide to leave the studio or theatre venue and perform in public space instead. In that case, the audience is everybody who happens to be present in that space: someone passing by on the way back from doing their grocery shopping or a homeless person, occupying a bench. Involving people in this way in an art process questioning the parameters of the arts, is not the same as defining, e.g., 'young men between the age of 20 and 25' as a target group in an application and subsequently having to make sure that the promised numbers are reached so that one does not get into trouble during the evaluation phase with the funding bodies (Trienekens 2019a, p.32).
Another example of a content-driven approach is research into a museum that works towards becoming an inclusive institution. On the one hand, the museum defined 'urban youngsters' (i.e., by definition a highly diverse group of young people) as its new target group and designs events related to the exhibitions that might interest this group. On the other hand, the museum takes its collection as a point of departure to explore how a wider audience could be involved in the conversation on how to present this collection in relation to the museum's direct (pluralistic urban) environment or pressing current social, environmental and/or political themes. For example, they explore, when planning an exhibition on understanding Islam in the Netherlands nowadays, whether this could be done in a sensible way without involving people with Indonesian roots in the process (Indonesia is both a former Dutch colony and the nation with the largest Muslim population in the world). The museum thus explores various approaches to learn how it can stay true to its mission and collection, without resorting to mere identity politics, while connecting to new and other audience groups (Trienekens 2019b).
As some of the text boxes above already showed, such a content-driven approach to audience development, aimed at artistic innovation, is applied by the Re-Imagine Europe partners too:
INA GRM – Paris (FR)
"GRM does not want to expand as an organisation. Neither do we book a female artist because she is a woman, nor do we target kids from the projects just because they live in projects. We do like to draw people in for what we do. We impose no preconceived boundaries regarding with whom we can or cannot collaborate or attract as an audience. All is possible if it fits the aesthetics GRM wants to put forward. People need to connect to the GRM history and on the basis of mutual respect there can be an exchange."
On the left: INA GRM (FR): Commission by BJ Nilsen at Sonic Acts Festival 2019. Photo: Pieter Kers
On the right: INA GRM (FR): Commission by Okkyung Lee at Présences électroniques. March 2019. Photo: INA GRM
Sonic Acts – Amsterdam (NL)
"Sonic Acts has always been focused on new work and artists. We have experienced that you need to think in longer lines of collaboration, with artists but also the audiences. How can we understand audience development as part of what we already do and as a way to prevent ourselves from getting stuck in routines and forgetting about the audiences. Once we were the 'new kids on the block'. Now we connect to young audiences, e.g., in panels or on curatorial boards, because artistic innovation happens in the fringe and in 'young cultural scenes'."
Izlog Festival / Student Centre Zagreb – Zagreb (HR)
Izlog Festival – Showroom of Contemporary Sound – originated from the reflection that the Zagreb Music Conservatory's curriculum hardly focused on 20th-century music, let alone 21st-century developments in music. Neither was there a place to learn about curation and skills such as how to write about or broadcast contemporary music. In the beginning the music department of the Student Centre Zagreb organised small concerts of experimental music, sound art, underground developments and the like. Izlog Festival evolved into a festival for all types of music that was not readily available in the local cultural programming. The festival was to represent the current times and all generations. The resultant broad range of musical expressions hosted by the Izlog Festival was thus not the outcome of a desire to give all segments of the audiences what they wanted, but stemmed from the aim to bring both audiences and musical professionals from different musical sectors together. Equally important was the goal to let new ensembles, bands and commissions ensue from having musical sectors meet, communicate and exchange experiences. More recently, an additional objective became to reach out to younger people and to avoid becoming a closed community. They started programming predominantly new names as well as working towards a greater balance in gender and age in the line-up. Izlog's quest has always been to give a qualitative impulse to the local and international music scene, or, in other words, to innovation in the music scene.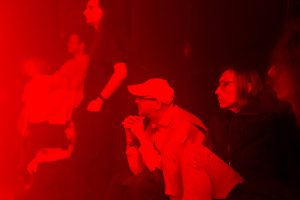 Student Center Zagreb (HR): Transnational Distribution Mario de Vega at Izlog Festival, May 2018. Photo: Sanja Bistričić
Student Center Zagreb (HR): Workshop Factory of Sound, May 2018. Photo: Tjaša Kalkan
As with defining which target groups are relevant and meaningful for the arts organisation, the organisations also work towards meaningful connections with the artists, scholars and other professionals they collaborate with. Matching takes place on the basis of artistic content, possibly resulting in new and/or innovative collaborations. This was reported by almost all Re-Imagine Europe partners.
3.6 Political drive behind audience development
As we have seen, the rationale in art policy and funding and in the literature on audience development is often social: empowerment, social cohesion or social inclusion are the goals. For example, the EC aims to support arts and cultural institutions in adopting the role of strengthening the European identity of citizens by integrating audience development in 'community building' and by building new relationships with civil society organisations. Citizenship, European identity and EC directives notwithstanding, the Re-Imagine Europe partners propose an alternative interpretation. People working in small-scale arts organisations, like those of the project partners, are often 'engaged citizens' themselves and connect to audiences on the basis of shared political convictions. These organisations may also be more 'activist' with regard to notions such as sharing (race and gender), equality and critical reflection than larger arts institutions. Rather than, for example, affirming identities, the goals of the project are more political and aimed at critically questioning current practices. Hence, in addition to the equally important quest for artistic innovation, for the project partners the rationale for audience development is rather more politically motivated. The interviews with the organisations offered plenty examples of how this political drive is expressed in the everyday practices of the arts organisations. We explore a few.
For instance, rather than working on 'access' (getting specific groups of people to visit arts institutions), the Re-Imagine Europe partners work on fundamentally opening-up arts institutions by also addressing Eurocentric, colonial and other hegemonial practices and perspectives. Bergen Kunsthall, for example, took such a political approach with its programme 'Who is doing the washing up?' by sharing its experiences and discussing the ways arts organisations are organised, Bergen Kunsthall sends off a fundamentally different signal to other art and cultural institutions, and to policy and funding bodies, instead of merely demonstrating how well they were able to work with a particular group.
Moreover, like many other small- and medium scale, more activist arts organisations, the Re-Imagine Europe organisations do not unquestioningly cater to governmental goals, but critically reflect on these goals and their implications. For instance, when citizenship is concerned, rather than working on the consolidation of the European identity, the partners work on enticing the audience to engage in critical reflection and develop tools with which the artists and audiences can become 'change-makers'. Critical reflection on widely accepted assumptions and current practices also manifests in the form various activities set up by the partners take. Skill development and critical reflection on pressing, current issues, are for instance at the heart of Sonic Acts' annual critical writing workshops that are part of their large-scale events. Another example are the podcasts by Ràdio Web MACBA:
Ràdio Web MACBA – Barcelona (ES)
Content is leading, both in the podcasts and in the Ràdio's take on audience development. Ràdio Web MACBA produces hour-long podcasts on often complex and/or non-mainstream topics, opposing the "current infantilisation and TED-Talkisation of sharing knowledge". That is to say, opposing the increasing dominance of media expressions – including digital and social media – aimed at producing short and multimedia content that is easy for audiences to digest. The podcasts are based on interviews with experts on the topics, sometimes with just a minimum of sound art to support or alternate with the sound of the voices. The Ràdio's statement is clear: current issues are complex and unravelling complexity requires time and attention.
Additionally, some of the Re-Imagine Europe partners express the need to fill the gaps left by our receding governments with alternative types of activities. That is to say, with actions they believe make more sense than (previous) governmental programmes. Scholars have long argued that unequal participation in the arts is more profound and that removing barriers is not the solution (Kawashima 2000, p.21, citing e.g. Scitovsky 1976). With Bourdieu these scholars argue that arts attendance and participation requires cultural capital: if cultural consumption is a learned capacity, the dominance of culture by a certain class will keep on being reproduced. To redress the imbalance, Lighthouse, for instance, offers an alternative type of training.
Lighthouse – Brighton (UK)
Lighthouse feels the need as an arts organisation to step in where it sees the government fail dramatically due to budget cuts in the arts and half-hearted action plans on cultural education. In the current political landscape, Lighthouse points out that arts and cultural organisations are the ones that need to provide cultural education. Part of Lighthouse's work is about informing teachers of the possibilities. Additionally, Brighton is quite a white, middle-class city, but Lighthouse wants art education not just for those well off, and its work is therefore vested in equality and inclusion. For instance, by working with young people who did not have the possibilities from their home base, or with girls to make them aware that they have as much right as boys to study sound, technology or film.
Rather than working and reporting on target groups, Lighthouse instead builds partnerships as a means of audience development: working with partners has the dual benefit of sharing experiences and/or complementing the organisation's expertise and of gaining access to new groups. Moreover, audience development for Lighthouse is about talent and skill development (employability) and about building long-term relationships with their 'audience'. Programmes such as 'Viral' and 'Last Dance' offered young people the opportunity to develop from regular audience members to active members. They may engage in a programme, then host or moderate a programme, or develop their ideas with the Lighthouse staff; eventually they may become part of the organisation.
Lighthouse's way of working does not always sit well with the way funding bodies require arts organisations to monitor and document their work. Funding is also predominantly project-based, making Lighthouse look 'tokenistic', in spite of their quest to build long-term relationships with partners and active audience members.
Simultaneously, the Re-Imagine Europe partners are also critical of their own approach and, in general, they discuss what the role of an arts organisation can or ought to really be. Is it tenable to argue that arts organisations should (also) be tasked with combating cultural or social exclusion – can they ever make a real difference given the power of economic and political developments that are aggravating exclusion faster than any organisation can reduce it? Elevate illustrates:
Elevate Festival – Graz (AT)
On the one hand, the team understands Elevate Festival as one of the festivals with the most diverse audience. The music, arts and discourse programme all attract people with different backgrounds and interests: people between 18 and 80 years old, music lovers and climate change activists or people helping refugees, for example. On the other hand, the team wonders how different these people are in spite of their differences? Are they not above all likeminded and orientated towards the political left, and is Elevate therefore preaching to the already converted? Is it enough to focus with the festival on multipliers and digital natives? Does the international diversity of the festival suffice – also with regard to the discourse programme, i.e., a platform to exchange ideas? Or do they need to break out of 'the bubble' and attract people with a different political take on the topics addressed in the programme? Do cultural institutions, supported by public funding, need to rethink their role in society and respond to nationalism and the swing to the far right in national and European politics? And if so, how can the festival become a 'meeting place' in which the paths of people of different political colours can cross?

Elevate Festival (AT): Symposium Elevate Discourse Programme, March 2019. Photos: Elevate
4. Preliminary conclusion
The Re-Imagine Europe partners acknowledge the importance of working on audience development, but they take a different approach. One of the reasons is that it concerns lean organisations with a relatively small overhead. The question for these organisations is: when does it make sense and when is it feasible and manageable to engage in audience development? This article has shown that audience development makes sense for the partners if, among other things, it is intrinsically motivated (i.e., content-driven), aimed at artistic innovation, and focused on audience groups relevant to the arts organisation. It makes sense when the partners can take a developmental approach: it is 'research' into the process of (innovation in) making and presenting art that opens up interest in and opportunities for engagement with audiences. And additionally, it makes sense when the partners can apply a political rationale in addition to an artistic one.
Starting from the juxtaposition of the insights offered by the Re-Imagine Europe partners and the findings from the literature review, the organisations advocate an enhanced narrative on audience development, starting from questions such as:
Does it suffice to just exchange the arts attendance approach ('reaching ever greater numbers of audiences') for a holistic approach with a strong focus on audience engagement? In other words, what are the shortcomings of the holistic, audience engagement approach?
How can we broaden the (mainstream) understanding of the intrinsic motivation for audience development of arts organisations with limited overhead?
How can we move audience development beyond the limited view of involvement and empowerment of non-attenders and 'vulnerable people in society'?
How can we broaden the understanding of the 'value' of the arts and audience development to include both social and political rationales?
And consequently: How can cultural policy and funding bodies come to better acknowledge the rationales for audience development of arts organisations that often invest at least as much in the R&D of work as in audience-centred activities?
What is required are different ways of addressing audience development in cultural policy and in criteria set by art funding bodies. Consequently it also requires different ways in which arts organisations need to justify their practices to policy and funding bodies, and a different set of indicators to measure (qualitative and long-term) impact when monitoring their work on audience development.
References
Arnett, D. B., S.D. German and S.D. Hunt. 2003. 'The Identity Salience Model of Relationship Marketing Success: The Case of Nonprofit Marketing.' Journal of Marketing, 67(2), 89–106.
Bamford, A., Wimmer, M. (2012). Audience Building and the Future Creative Europe Programme. European Expert Network on Culture [EENC short report].
Bollo, A., Da Milano, C., Gariboldi, A., & Torch, C. (2017). Audience Development. How to Place the Audience at the Centre of Cultural Organizations, Brussels: European Commission–Directorate-General for Education, Youth, Sport and Culture.
Boorsma, M. (2006). 'A Strategic Logic for Arts Marketing.' International Journal of Cultural Policy, 12(1), 73-92.
Borwick, D. 2012. Building Communities Not Audiences. Winston-Salem, NC: Arts Engaged.
Brown, A. S., & Ratzkin, R. (2011). Making Sense of Audience Engagement: A Critical Assessment of Efforts by Nonprofit Arts Organizations to Engage Audiences and Visitors in Deeper and More Impactful Arts Experiences. San Francisco: The San Francisco Foundation.
Brown, A. S. (2013). Engaging Next Generation Audiences: A Study of College Student Preferences towards Music and the Performing Arts. Hopkins Center for the Arts, Dartmouth College.
Bussell, H. & Forbes, D. (2007). 'Volunteer Management in Arts Organisations: A Case Study and Managerial Implications.' International Journal of Arts Management, 9(2) (WINTER 2007), 16-28.
Cogman, L. (2013). The Audience Development Toolkit. Retrieved from: http://www.culturehive.co.uk/resources/audience-development-toolkit/
Conner, L. (2013). Audience Engagement and the Role of Arts Talk in the Digital Era. London, UK: Palgrave Macmillan.
Cravens, J. (2000). 'Virtual Volunteering: Online Volunteers Providing Assistance to Human Service Agencies.' Journal of Technology in Human Services, 17(2-3), 119-136.
Davies, M., & Wilkinson, H. (2011). Culture Change, Dynamism and Diversity. London: Museums Association.
De Voldere, I., & Zeqo, K. (2017). Crowdfunding. Reshaping the Crowd's Engagement in Culture [Consultancy Report]. European Commission (EC).
European Commission (2012). European Audience: 2020 and Beyond. Conference Conclusions.
Fiaccarini, G., Gariboldi, A., & Righolt, N. (2016). Steps Towards a Good Audience Practice. Follow the Learnings of the ADESTE Project.
Foreman-Wernet, L., & Dervin, B. (2017). 'Hidden Depths and Everyday Secrets: How Audience Sensemaking can Inform Arts Policy and Practice.' The Journal of Arts Management, Law, and Society, 47(1), 47-63.
Hayes, D., & Slater, A. (2002). '"Rethinking the Missionary Position" – The Quest for Sustainable Audience Development Strategies.' Managing Leisure, 7(1), 1-17.
Hotdoc (2015). Guidelines for Volunteer Management. Retrieved from:
http://assets.hotdocs.ca/doc/HD15_Volunteer_Management.pdf
Jancovich, L. (2015). 'Breaking Down the Fourth Wall in Arts Management: The Implications of Engaging Users in Decision-Making.' International Journal of Arts Management, 18(1), 14-28.
Kawashima, N. (2000). Beyond the Division of Attenders vs. Non-attenders: A Study into Audience Development in Policy and Practice. Centre for Cultural Policy Studies: University of Warwick.
Ellison, J. (2015). The Art of Partnering [Report]. London: King's College London.
Landry, C. et al. (1996). The Art of Regeneration. Comedia: Stroud.
Lin, C., & Bruce, B. C. (2013). 'Engaging Youth in Underserved Communities Through Digital-Mediated Arts Learning Experiences for Community Inquiry.' Studies in Art Education, 54(4), 335-348.
Lipps, B. (ed.) (2015). Culture Shift: Creative Leadership for Audience-Centric Performing Arts Organisations. A Theatron Toolkit for Strategic Audience Development, Theatron.
Lowe, S.S. (2000). 'Creating Community: Art for Community Development.' Journal of Contemporary Ethnography, 29 (3), 357-386.
Maitland, H., J. Meddick (2000). The Marketing Manual: For Performing Arts Organisations. Cambridge: Arts Marketing Association.
McCarthy, K., E. Ondaatje, L. Zakaras & A. Brooks (2004). Gifts of the Muse. Reframing the Debate About Benefits in the Arts. Santa Monica: Rand Corporation.
Nesta (2015). Digital Culture: How Arts and Cultural Organisations in England Use Technology. London: Nesta.
OMC (2012). A Report on Policies and Good Practices in the Public Arts and in Cultural Institutions to Promote Better Access to and Wider Participation in Culture. Brussels: Open Method of Coordination. Retrieved from:
http://ec.europa.eu/assets/eac/culture/policy/strategic-framework/documents/omc-report-access-to-culture_en.pdf
O'Sullivan, T. (2010). 'Dangling Conversations: Web-Forum Use by a Symphony Orchestra's Audience Members.' Journal of Marketing Management, 26(7–8), 656-670.
Reich, S. M., & Reich, J. A. (2006). 'Cultural Competence in Interdisciplinary Collaborations: A Method for Respecting Diversity in Research Partnerships.' American Journal of Community Psychology, 38(1-2), 1-7.
Rentschler, R., J. Radbourne, R. Carr and J. Rickard. 2002. 'Relationship Marketing, Audience Retention and Performing Arts Organisation Viability.' International Journal of Nonprofit and Voluntary Sector Marketing, 7(2), 118–130.
Sidford, H., Frasz, A., Hinand, M. (2014). Making Meaningful Connections: Characteristics of Arts Groups that Engage New and Diverse Participants. James Irvine Foundation.
Stallings, S. & B. Maudlin (2016). Public Engagement in the Arts. A Review of the Literature. Los Angeles: Ford Theatre Foundation & Los Angeles Arts Commission.
Stamer, D., Lerdall, K., & Guo, C. (2008). 'Managing Heritage Volunteers: An Exploratory Study of Volunteer Programmes in Art Museums Worldwide.' Journal of Heritage Tourism, 3(3), 203-214.
Stern, M. J., & Seifert, S. C. (2013) Cultural Ecology, Neighborhood Vitality, and Social Wellbeing – A Philadelphia Project. Pennsylvania: University of Pennsylvania/Social Impact of the Arts Project (SIAP).
Scitovsky, T. (1976), The joyless economy. London: Oxford University Press.
Trienekens, S. (2018), Ontmoet MusicGenerations & Talent voor Gastvrijheid. Amsterdam: UrbanParadoxes.
Trienekens, S. (2019a), Duurzaam investeren in nieuwe makers. Evaluatie regeling Fonds Podiumkunsten. Amsterdam: UrbanParadoxes.
Trienekens, S. (2019b) Forthcoming in W. Modest (ed.). 'Doing Diversity'. Amsterdam: Nationaal Museum van Wereldculturen.
Vlieghe, J., Muls, J., & Rutten, K. (2016). 'Everybody Reads: Reader Engagement with Literature in Social Media Environments.' Poetics, 54, 25–37.
Walmsley, B. & Franks, A. (2011). The Audience Experience: Changing Roles And Relationships. Author produced version retrieved from: http://eprints.whiterose.ac.uk/79377/
Walmsley, B. (2013). Co-creating Theatre: Authentic Engagement or Inter-Legitimation? Cultural Trends, 22(2), 108–118.
Walmsley, B. (2016). 'From Arts Marketing to Audience Enrichment: How Digital Engagement Can Deepen and Democratize Artistic Exchange with Audiences.' Poetics, 58, 66-78.
Webster, Mark & Ben Buglass (2005) Finding Voices, Making Choices. Creativity for Social Change. Nottingham: Educational Heretics Press.