Anna Bunting-Branch and Aliyah Hussain: Potential Wor(l)ds Workshop, 19 February 2020.
Potential Wor(l)ds is a collaborative project between artists Anna Bunting-Branch and Aliyah Hussain, drawing on shared interests in feminist science fiction, embodied processes of making, and different ways of worldbuilding.
The workshop will begin with an introduction to Láadan, a feminist language created by linguist and science fiction writer Suzette Haden Elgin in 1984. Finding herself unable to express certain ideas and emotions in English, Elgin intended Láadan to make space for new words and ways of communicating. For Elgin, the idea of gaps in language offers a place to start creating change. She called these gaps ​'potential words'. Her experiment tested the hypothesis that ​'there are changes you could not introduce into a language without destroying it and languages you could not introduce into a culture without destroying it,' and that ​'change in language brings about social change, rather than the contrary.'
The idea of these potential wor(l)ds forms the basis of this workshop, where participants will experiment with contact mics, found objects, drawing and our own bodies to create a collective vocabulary. The workshop will move away from dominant ways of communicating to explore more experimental, collaborative modes of expression. Using gesture, mark-making and sound in order to try to feel what is being communicated as well as what cannot yet be said.
Material from this workshop will be added to the Potential Wor(l)ds dictionary, an online archive documenting previous workshops in Bergen, Brighton and Liverpool.
Questions, suggestions and provocations are welcome. As the philosopher Luce Irigaray (herself an inspiration for the Láadan experiment) tells us: ​'If we keep on speaking the same language together, we're going to reproduce the same history. Begin the same stories again. Don't you think so?'
To express your interest in joining the workshop, please send a short motivation to workshop[at]sonicacts[dot]com. Applications will close on 1 February.
Arie Altena + Katía Truijen: Critical Writing Workshop, 21-23 February 2020.
Following the success of previous Critical Writing workshops, a new edition will take place during the Sonic Acts Academy, from 21 to 23 February 2020. The workshop is hosted by Arie Altena and Katía Truijen, as well as guests from different journalistic fields.
Focusing on specific aspects of writing as a craft (language, style and focus) and how to shape the argument or perspective of a piece, participants will convene in commissioning meetings, and receive one-to-one feedback on all work produced during the festival. The workshop focuses on developing writing skills, and all writers who complete text will have their pieces published on the Sonic Acts blog.
The Critical Writing workshop this year will focus on the different critical modes that can be used to write about, describe and discuss art, theory, sound and music while thinking about how to package ideas. Participants will cover the conference, performances and other events during the festival, and have a chance to interview artists and theorists.
The workshop is intended for a small group of emerging international bloggers, journalists, critics and writers active or interested in the field of interdisciplinary arts (media arts, film, visual arts and performance). Applicants are asked to submit a short motivation and CV to workshop[at]sonicacts[dot]com. The deadline for applications is 20 January 2020. For an impression of previous written Critical Writing results, check out the Sonic Acts blog.

Ben Russell: ATTENTION! Workshop, 12 -14 February 2020.
ATTENTION! is a three-day workshop exploring perceptual engagement, that seeks to re-orient the audiovisual attentions of its participants towards the present. Participants will be led by artist, filmmaker and curator Ben Russell in employing a series of listening, movement, recording, and viewing exercises, to produce a continuity from now to the infinite. ATTENTION! takes its title from the exclamations of a trained Mynah bird in Aldous Huxley's ISLAND*.
Informed by Ben Russell's own decades-long practice in image-and-sound collection under the loose frame of ​"documentary" and ​"psychedelic ethnography" and inspired by production trips to Vanuatu, the Marquesas Islands, Rapa Nui, and more, the workshop contains audiovisual tasks drawn from sources as diverse as Maryanne Amacher, Maurice Merleau-Ponty, LSD test subjects, Georges Perec, hydrophone coral reef recordings, Jean Rouch's idea of trance-cinema and more – all in the name of recognising one's own intuitive, cognitive and perceptual processes within the construction of the Here and Now.
To apply for the workshop, taking place from 12 – 14 February in Amsterdam, please send a short motivation and CV to workshop[at]sonicacts[dot]com. The deadline for applications is 22 January.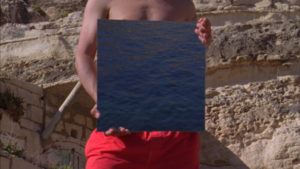 ATTENTION! Workshop
Potential Wor(l)ds Workshop
Critical Writing Workshop
Pieter Kers
Thor Brodreskift
Ben Russell