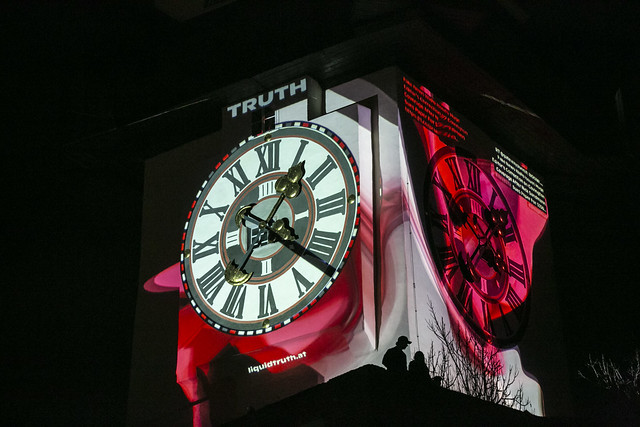 With Schnellebuntebilder, Knoth & Renner and Berit Gelma present their installation Liquid Truth (2019), commissioned by Elevate.
In ancient times it was said: Truth is the daughter of time.
In order to make the fast pace of the truth discourse in digital, political space (Twitter) visible in real time, a generative data sculpture is created. High on the Schlossberg above the city of Graz, the sculpture paints the liquid tendencies of #truth and #fake in a seconds-rhythm, this idea is brought into the hyper-accelerated present – and exhibited on the clock tower of Graz which was constructed in the 13th century.

Following the historical extension of the dial, a digital second hand is now being added to the clock tower. It is intended to make visible the fast-moving nature of the discourse of truth in the digital age. It is possible to interact with the sculpture on site by tweeting the respective hashtags.
The sculpture also dissolves boundaries of digital and physical space – it continues to live beyond the festival: as a digital datasculpture on the Internet, it continues to feed on real-time data. Changing constantly, it thus reflects the truth discourse into the digital infinite.

The Graz clock tower itself also acts as a protagonist: at every chime of the bell, it tweets truth statistics under @Uhrturm_Graz.