Anthea Caddy – Long Throw: An Exploration of an Expanded Energetic System for Cello and Loud Speaker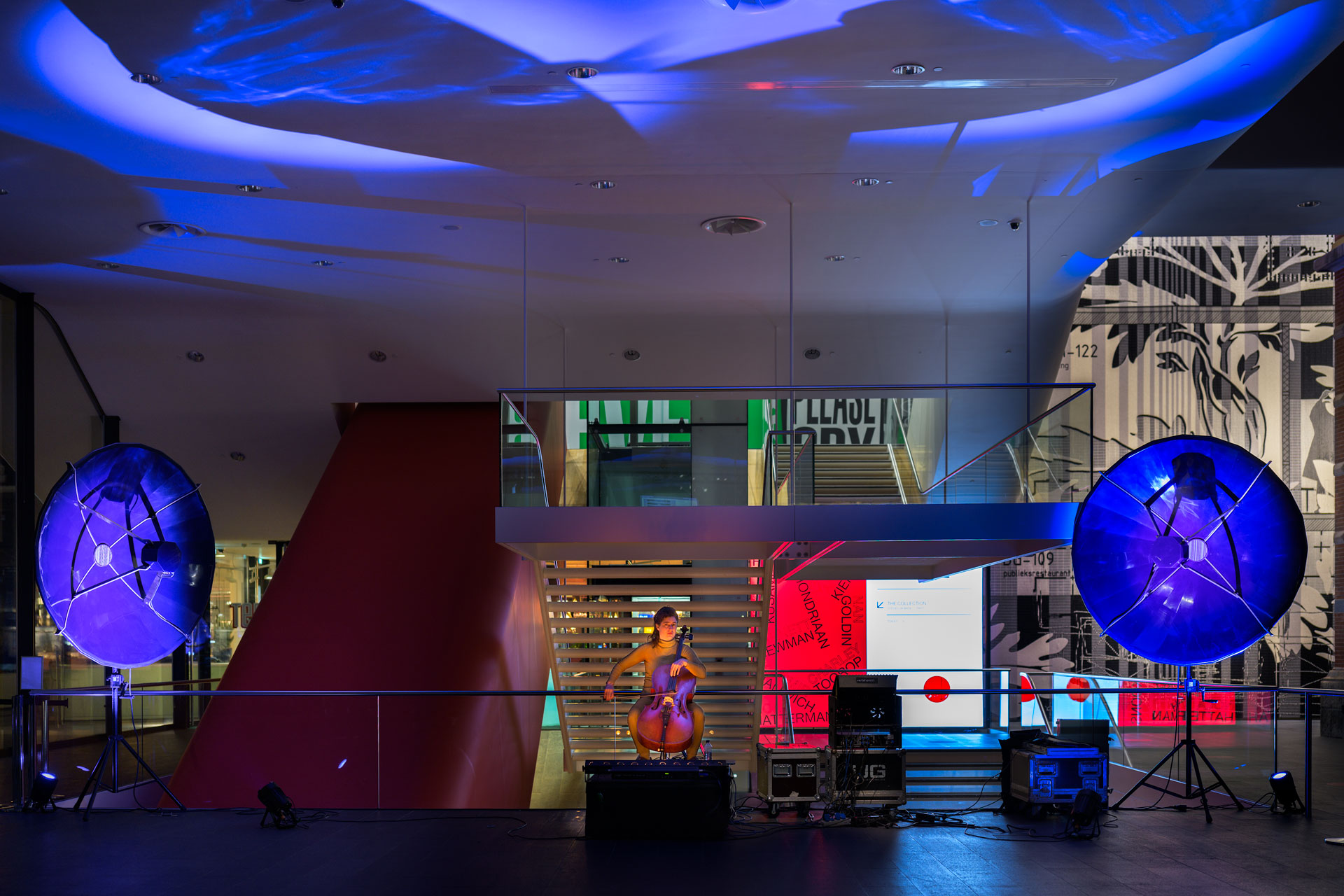 Anthea Caddy is nationally and internationally recognised as a top Australian experimental cellist. She has played with everyone from Tony Conrad to Clayton Thomas, and is involved in numerous innovative performative collaborations. She returns to Sonic Acts where she will once again exercise extraordinary technique in her approach to acoustic phenomena, amplification and spatialisation in haunting digital-analogue performances.
Caddy is back at Sonic Acts to première a live performance that expands the physical properties of projected sound energy via amplified cello. The cello signal is projected by a custom-built parabolic speaker – projecting a beam of sound up to 3 km long and 60 cm in circumference. Its unnatural quality is enhanced by the spatially synthetic behaviour of the controlled beam and the cello's sound projection. The reflection or refraction nascent to the site lends an uncontrollable element to the signal in a project that harnesses energy to create large-scale bodies of spatial sound phenomena. The project has been realised and built in close and ongoing collaboration with media artist and engineer Miodrag Gladović. From February 2019 to January 2020, Gladović built a prototype speaker and tested it in Zagreb with Caddy in both interior and exterior environments. From this first iteration Gladović designed and built two parabolic speakers to the sonic specifications of the artist. Those two speakers will be premiered in the piece Long Throw in Stedelijk.
Anthea Caddy divides her time between Melbourne and Berlin. Her sonic investigations combine a knowledge base in sound with instrumental performance, exploiting the cello's textural, spatial and dynamic capabilities. She references electro-acoustic music, interested in the relationship between digital composition, field recording and acoustic performance. Caddy seeks to consolidate conceptual and practical aspects of these media in articulating techniques and concepts indigenous to digital spatialisation in performance and recording. A 2019 contributor to Sonic Acts Festival, Caddy collaborates with Thembi Soddell (Iland, 2006, cajid media), Magda Mayas, Philip Samartzis (as Absence and Presence released on Unheard Spaces [Microphonics, 2006]), Annette Krebs, and Robin Hayward and Eric La Casa (performance/​installation ..Maps of Corners..). She has played with artists including Tarab (Eamon Sprod), Clayton Thomas, Alice Hui-Sheng Chang and Tony Conrad. Commissioned by Sonic Acts as part of Re-Imagine Europe, co-funded by the Creative Europe programme of the European Union.
Presentations
Sonic Acts Academy 2020
21 February 2020
Stedelijk Museum Amsterdam
www.sonicacts.com
Touch Me Festival
18 September 2020
Zagreb, Croatia
www.kontejner.org