Tuomas A. Laitinen – Protean Sap
Commissioned by
Lighthouse
Protaen Sap is a augmented reality filter and a single channel video creating a strange world encrusted by geometric formations.
Thorugh Protean Sap augmented reality filters, the viewer can experience protein structures (like viruses, bacteria, other microbes) becoming virtual body augmentations or 3D objects placed in the world, and receive predictions from the mysterious 'seer'. Available via Lighthouse Instagram page on your smartphone or tablet.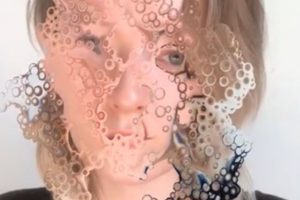 A single-channel video work:
Narrative version (available to view 24 Sep – 15 Oct)
Ambient version (available for purchase)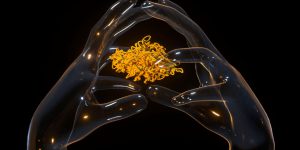 The work creates a strange, dream-like reality where geometric formations encrust objects and bodies, paired with a text by the mysterious 'Seer'. The forms are drawn from protein chains of viruses, bacteria, and other microbial life. These shapes are then changed through simulations into masks and ceremonial artifacts which are morphed in a hallucinatory way.
In the video, the metaphor for protean change is a tide pool; an intertidal zone influenced by the moon and the sun. The intertidal zones can be seen as a gauge for the change that is happening in the ocean: these places are looked at as models for studying ecological change because the effects are seen at a more rapid pace. The protein chains link us to our past and our future, and in the work, they are mediated through a "looking device" and a seer, who utters recipes and predictions.
The seer personifies our constant yearning to predict the future: to give weather forecasts, predict fluctuations in the stock markets, or predict the warming of the planet and its consequences. This work explores different vantage points toward knowledge, while also taking inspiration from various science fiction stories, Laitinen explains.
"Initially, I wanted to realise something that was physically connected to the West Pier in Brighton. Due to pandemic travel restrictions, it was clear it would be better to work with digital tools, so I started to think about how the work could be experienced in multiple locations. The tide pool is an active ecosystem, where the ocean meets land, which is also true of a pier structure. So, the metaphor of the tidal push and pull is still present in the work."
"There are a few starting points that were important in the beginning of this work. I was researching Protein Data Bank, an open-source platform for scientists working with macromolecular protein models, the building blocks of life. These protein chains are a structural view of biology, also actively used in the research on COVID-19."
CREDITS
3D animations and simulations, AR, sound: Tuomas A. Laitinen
Sound consultant: Kaino Wennerstrand
Biological Macromolecular Structures: Protein Data Bank
Music from the video:
Il primo libro de' balli by Giorgio Mainerio (16th century)
Anonymous (16th century)
Ensemble Nylandia
Sini Vahervuo: recorders
Mikko Ikäheimo: archlute, baroque guitar
Tatu Ahola: cello
Recorded by Ville Hyvönen at Suomenlinna Studios.
Tuomas A. Laitinen: Ocarina of Phleghm
Augmented reality:
Technical consultant: Piotr Nierobisz // Munchingsquare
Website graphic design: Joosung Kang
Protean Sap is a co-commission from Lighthouse, Daata and The Finnish Institute. Lighthouse is part of Re-Imagine Europe, which is co-funded by the Creative Europe programme of the European Union. Re-Imagine Europe is initiated by Sonic Acts (NL) and coordinated by Paradiso (NL) in collaboration with Elevate Festival (AT), Lighthouse (UK), Ina GRM (FR), Landmark / Bergen Kunsthall (NO), A4 (SK), Disruption Network Lab (DE), Ràdio Web MACBA (ES), Urban Paradoxes (NL) and Kontejner (HR).
Daata commissions original, digital artworks by established and emerging artists, allowing you to stream or download high-quality digital artworks on any device. Founded in 2015 by David Gryn, Daata is the leading platform for digital artworks. Through four avenues – Daata Editions, Daata Streaming, Daata TV and Galleries at Daata – Daata offers hundreds of original, digital works by an ever-growing portfolio of contemporary artists.
Helsinki Contemporary is an art gallery focusing on long-term collaborations with emerging and more established artists who take a physical, in-depth approach to their work. Our artistic profile is not restricted to any particular media, but prioritizes visual art of current interest that conducts a dialogue with both the surrounding society and the space in which it is presented. In our collaborations with artists, we accentuate curatorial commitment and the content of the art.
The Finnish Institute is an expert on Finnish culture and society, working in the United Kingdom and the Republic of Ireland. The Institute supports the internationalisation of Finnish contemporary art and helps artists, researchers and social and cultural actors to create international networks. The Institute is a non-profit, private foundation funded by The Finnish Ministry of Education and Culture.